Positive Discipline Parenting Tools: The 49 Most Effective Methods to Stop Power Struggles, Build Communication, and Raise Empowered, Capable Kids (Paperback)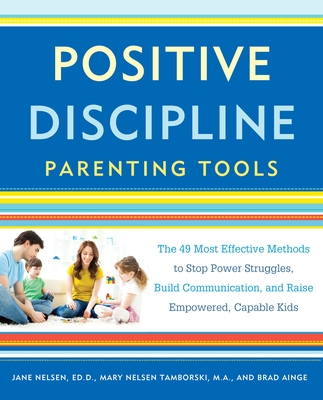 Description
---
Do you wish there was a way to raise well-behaved children without punishment? Are you afraid the only alternative is being overly indulgent?

With Positive Discipline, an encouragement model based on both kindness and firmness, you don't have to choose between these two extremes. Using these 49 Positive Discipline tools, honed and perfected after years of real-world research and feedback, you'll be able to work with your children instead of against them. The goal isn't perfection but providing you with the techniques you need to help your children develop the life and social skills you hope for them, such as respect for self and others, problem-solving ability, and self-regulation.

The tenets of Positive Discipline consistently foster mutual respect so that any child—from a three-year-old toddler to a rebellious teenager—can learn creative cooperation and self-discipline without losing his or her dignity. In this new parenting guidebook, you'll find day-to-day exercises for parents to improve their parenting skills, along with success stories from parents worldwide who have benefited from the Positive Discipline philosophy. With training tools and personal examples from the authors, you will learn:

·         The "hidden belief" behind a child's misbehavior, and how to respond accordingly
·         The best way to focus on solutions instead of dwelling on the negative
·         How to encourage your child without pampering or praising
·         How to teach your child to make mistakes and follow through on agreements
·         How to foster creative thinking
About the Author
---
JANE NELSON, Ed.D., coauthor of the bestselling Positive Discipline series, is a licensed marriage, family, and child therapist and an internationally known speaker.

MARY NELSEN TAMBORSKI, M.A., is a marriage and family therapist, a certified Positive Discipline trainer, and a parenting coach, as well as a wife and mother of three sons.

BRAD AINGE received his B.A. from Brigham Young University and is the father of three children and the CEO of Positive Discipline.
Praise For…
---
Positive Discipline Parenting Tools is a powerful foundation builder and problem solver for any parent. Whether you have a toddler, teen, or any age in between, you'll find this book filled with real life experiences and real world strategies — plus step-by-step instructions to help you through the toughest parenting issues.  I urge every parent to pick up a copy and start reading today! It's a keeper! 
 - Amy McCready, author of The "Me, Me, Me" Epidemic and If I Have to Tell You One More Time...

"A must read for all parents.  Every page will be dog eared for future reference. Besides offering up theory and techniques that are effective and transformative for families, Positive Discipline Parenting Tools is filled with real life stories from parents around the world.  The details in these stories both deepen the learning and inspire. A joy to read and easy to implement immediately."
-Alyson Schafer, author of Honey, I Wrecked the Kids and Ain't Misbehavin'

"With Positive Disciple Parenting Tools, the authors have delivered a clear, research-based guide for training our children to motivate themselves, and ultimately manage their own behavior. What a gift to all of us striving to put down the sticks and carrots, and lead with loving guidance instead."
—Hal Runkel, LMFT, bestselling author of ScreamFree Parenting

"Nelsen's tone is that of a patient teacher, gentle but never coddling, and Tamborski and Ainge's more conversational styles bring an "in the trenches" feel without falling into the self-deprecation so common in peer-focused parenting books...a welcome guide in tough moments."
-Publishers Weekly

"A delightful and fun book to read with practical and effective parenting tools. Each story used resonates with our daily and challenging lives with our children. This is a must read book for parents who want to raise independent, empowered and capable kids."
Tony and Lisseth Orozco, Executive Directors, Disciplina Positiva Center, Anaheim, CA