The Lady in Gold: The Extraordinary Tale of Gustav Klimt's Masterpiece, Portrait of Adele Bloch-Bauer (Paperback)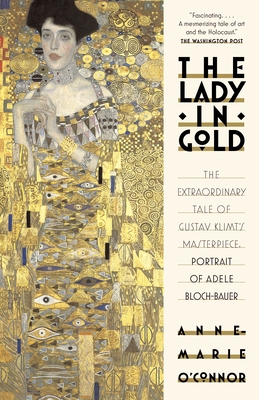 $19.00
Email or call for price
Description
---
National Bestseller

The true story that inspired the movie Woman in Gold starring Helen Mirren and Ryan Reynolds.

Contributor to the Washington Post Anne-Marie O'Connor brilliantly regales us with the galvanizing story of Gustav Klimt's 1907 masterpiece—the breathtaking portrait of a Viennese Jewish socialite, Adele Bloch-Bauer. The celebrated painting, stolen by Nazis during World War II, subsequently became the subject of a decade-long dispute between her heirs and the Austrian government.
When the U.S. Supreme Court became involved in the case, its decision had profound ramifications in the art world. Expertly researched, masterfully told, The Lady in Gold is at once a stunning depiction of fin-de siècle Vienna, a riveting tale of Nazi war crimes, and a fascinating glimpse into the high-stakes workings of the contemporary art world.
One of the Best Books of the Year: The Huffington Post, The Christian Science Monitor.  
Winner of the Marfield National Award for Arts Writing. Winner of a California Book Award. 
About the Author
---
Anne-Marie O'Connor attended Vassar College, studied painting at the San Francisco Art Institute, and graduated from the University of California, Berkeley. She was a foreign correspondent for Reuters and a staff writer for the Los Angeles Times for twelve years, and has written extensively on the Klimt painting and the Bloch-Bauer family's efforts to recover its art collection. Her articles have appeared in Esquire, The Nation, and The Christian Science Monitor. She currently writes for The Washington Post from Jerusalem, where her husband, William Booth, is Post bureau chief. 
Praise For…
---
"Fascinating. . . . A mesmerizing tale of art and the Holocaust." —The Washington Post

"A celebration of art and persistence. . . . O'Connor's book brings Klimt's exceptional portrait of Adele Bloch-Bauer home, broadening the meaning of homeland at the same time." —The Christian Science Monitor

"Ms. O'Connor has told an important story." —The Wall Street Journal
 
"O'Connor skillfully filters Austria's troubled twentieth century through the life of Klimt's most beloved muse. . . . A nuanced view of a painting whose story transcends its own time." —Bookforum

"Captivating." —MORE Magazine

"Combines detailed reportage with passionate storytelling. . . .  Unraveling the portrait's journey also reveals how global norms of art and war have changed, and the powerful roles that art plays in politics, society, identity and memory." —The Rumpus

"A fascinating book." —The Dallas Morning News

"Richly drawn. . . . Part history and part mystery, The Lady in Gold is a striking tale." —BookPage

"The lusciously detailed story of Gustav Klimt's most famous painting, detailing the relationship between the artist, the subject, their heirs and those who coveted the masterpiece. . . . Art-history fans will love the deep details of the painting, and history buffs will revel in the facts O'Connor includes as she exposes a deeper picture of World War II." —Kirkus Reviews

"Intriguing. . . . Poignant and convincing. . . . Vividly evokes the intellectually precocious and ambitious Adele's rich cultural and social milieu in Vienna, and how she became entwined with the charismatic, sexually charged, and irreverent Klimt." —Publishers Weekly

"Writing with a novelist's dynamism, O'Connor resurrects fascinating individuals and tells a many-faceted, intensely affecting, and profoundly revelatory tale of the inciting power of art and the unending need for justice." —Booklist (starred review)