Surfing Rogue Waves: How to paddle out into the 21st Century (Hardcover)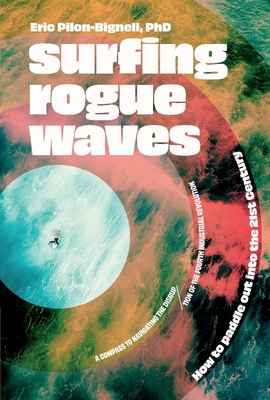 $29.99

Usually Ships in 1-5 Days
Description
---
Humanity is at a crossroads between the world as we know it and the rapid pace of disruption. The smallest changes are reshaping our world faster than we can comprehend. Over the next few years, we will experience more disruption than in the previous 100 years. Do we notice this change happening? Are we numb or oblivious to this change? Are things changing too fast and too regularly to notice? Every modern change presents as a giant, rogue wave emerging on the horizon—will we surf these waves with mastery? Or will we let them swallow us whole?

We live in the greatest period of opportunity in all of human history; how will you gain from it? Furthermore, how will you influence and shape both your life and the future of humanity? Do you have a plan to engage exponential change in your life? Our political and social systems are outdated, and potent disruption is heading for them like a freight train. Increased opportunities bring elevated risk, and the public's trust in companies, governments, the media, and even science are all under attack. How do you filter through the noise? How do you make sound, optimal, and rational decisions faster than ever?

As the waves of material science, nanotechnology, biotechnology, blockchain, AI, and dozens of other industries collide with one another, rogue waves will emerge and obliterate life as we know it. Everything, including what it means to be human, will be disrupted. We must proactively consider the ethics of tomorrow, today.

This book presents a gripping and insightful framework on how to pick up a board and surf the rogue waves of the 21st century. Eric's original insights will help business leaders understand the onslaught of the complexity of the disruption they face. Not just in the office, but throughout the everyday encounters of daily life as they navigate and unshackle future potential.

No more watching from the shore. No more excuses. The decisions and actions we take today, no matter the size, will ultimately determine the fate of humanity. Why fight the waves of advancement and progression when we can use them to our advantage? For it is riding this surf where we find our way to a flourishing future that is more ethical, all-encompassing, and sustainable. Surf's up!
About the Author
---
Eric is a pragmatic futurist focused on addressing disruption by increasing the creative capacity of individuals, teams, and organizations to ignite change, innovation, and foster continuous growth. Eric has an undergraduate degree in engineering, an MBA in Information Systems, and a Ph.D. in Global Leadership. His doctoral work primarily explored complexity sciences centered on executive cognition and their use of intuitive improvisation, decision-making, artificial intelligence, and data-based decision models.

When he is not working with clients, researching, or writing, he can be found in the mountains or on the water. He founded PROJECT7 to raise awareness and money for research on brain-related illnesses. Eric is currently working and living with his wife in Chicago, Illinois. To connect or learn more about this book, Eric, or PROJECT7, please visit www.ericpb.me.