The Accountant's Guide to IRS Representation Checklists, Letters, and Forms: A Practical Resource Guide to Documents For Your Daily Practice (Paperback)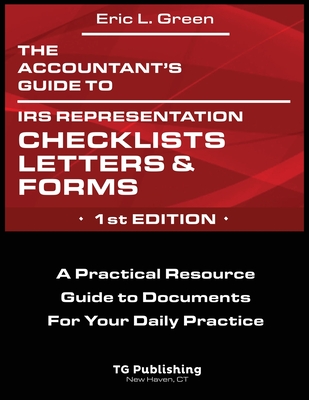 $129.00

Usually Ships in 1-5 Days
Description
---
The IRS's ability to match information and identify non-filers has never been greater. Before 2020 there were more than 15 million taxpayers in the IRS Collection Division inventory, and the IRS has announced it has identified and will pursue more than 10 million non-filers. COVID exacerbated all of this, creating an army of struggling taxpayers and small businesses. There has never been a better time to add IRS Representation to your practice and help taxpayers resolve their back tax issue
Have a penalty abatement request that you need to draft? A rejected Offer to appeal? Want guidance on writing a letter that not only meets the deadline but carries the day? It is all here, including a pricing guide on how to charge for this service and expand your bottom line.
With this Practice Guide you now have dozens of checklists and letters at your fingertips to allow you and your staff to respond to clients and the IRS with speed, efficiency and impact. We have compiled all of our checklists, letters and forms into a complete practice guide for you to use in your practice. All the forms and letters you need to practice at the top of your game are here to save taxpayers and make money.
Attorney Eric Green is a tax attorney and the founder of a boutique tax law firm with offices in Connecticut and New York. He is a national speaker, a columnist for the Journal of Tax Practice & Procedure, and a pundit on everything IRS Enforcement.