Psychology of Human Behavior: 3 Books in 1 - Empath, Stoicism in Modern Life, Persuasion (Paperback)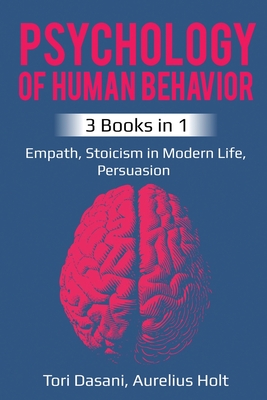 $31.00

Usually Ships in 1-5 Days
Description
---
Empath: A Survival Guide for the Highly Sensitive Person - Achieve Emotional & Spiritual Healing
Empathy is an emotional skill that most humans have some degree of mastery over. It allows us to feel emotions vicariously through others, and sometimes physical sensations as well. Most of us display a little empathy every day without ever being conscious of it because it is so integral to every aspect of our lives. Empathy is what compels us to yawn when we see someone else do it, to laugh at something funny, or to comfort someone in pain. Without it, all our interpersonal connections would be cold, calculated, robotic or callous; violence would be considered a simple and easy way to resolve conflict, and the feeling we know as "love" would be reduced to infatuation.We need empathy for society to function peacefully, and during times when it seems to be in short supply, we tend to idealize it. Many of us have come to see a person's ability to empathize with others as a measure of their best and strive to display our sensitivity to the emotions of others as often as possible. If we are accused of lacking empathy, we are likely to feel like we've just been called a monster.
Stoicism in Modern Life: Stoic Mindset to Discipline, Mental Toughness, & Emotional Intelligence
Here is the secret: your happiness is entirely up to you. You can be happy no matter what happens to you and no matter what material things you have. Everything important is under your control.
Sound silly? That's why you need this book. The philosophy of Stoicism has helped people for thousands of years and is one of the bases for several modern techniques of psychology, such as CBT. It teaches us how to understand our place in the world and concrete techniques for making us better.
This book will go through the philosophy of Stoicism, from A to Z. We will learn about what the good life means and how to achieve. We will talk about ways to develop self-control and specific practices that can help you gain peace and tranquility.
Persuasion: Learn Techniques in Manipulation, Dark Psychology, NLP, Deception, and Human Behavior
Dark psychology is all around us. Many people are ready to take control and work towards their own goals, without any care about whether it is beneficial to the other person, or even if it harms the victim at all. These people roam around us, but we all want to maintain our freedom, and do what is best for us, regardless of the goals of other people.
This guidebook is going to take some time to explore this kind of dark psychology and will look at topics concerning manipulation, NLP techniques, and persuasion.