How to Analyze People: The Complete Guide to Speed Reading People through Body Language and Dark Psychology Techniques and Improve your Socia (Paperback)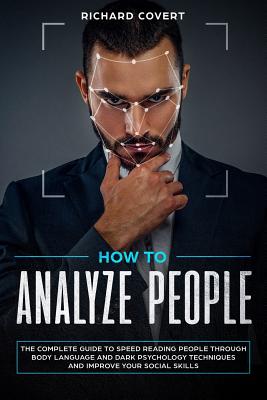 for information about purchasing this book, please contact orders@bookpassage.com
Description
---
★★ Buy the Paperback Version of this Book and get the Kindle Book version for FREE ★★
Would you like to
Find Out
what's the
True Essence of People
and
What They Think
about you
in a Few Minutes
?
Have you ever wondered how do
Some People
express
Strong Energy
that makes them
Compelling Without Saying a Single Word
?
If you have ever asked yourself these questions, How to Analyze People is the Most Immediate and Complete Guide to finding the Answers you are looking for.
We have all been Fooled by Someone's Words. Whether it's an Employer who promised you a promotion, a Friend who betrayed your trust or a Person Who Seemed to be the Right One but proved to be yet another heartbreak.
This happens because
we keep on Valuing Only to What People Say
, without focusing on
What Really Matters: What People Think and Want
.
How to Analyze People is the guide that gives you the Necessary Tools to Master the Body Language and Dark Psychology Techniques simply and effectively, making you Discover the Real Purposes and Feelings of Other People, and Improving your Relationship thanks to that.
Here's a little taste of what you'll find in this book:
The Most Effective Tricks to show a Strong Personality that fascinates whoever you are in front of
The 5 Most Common Mistakes to avoid when Talking to Someone
How to Understand that your Interlocutor is Lying and No Longer Being a Victim of Lies
The 6 Most Obvious Signs to understand if a person is Interested in You
How to Use Body Language Techniques to master the Art of Seduction
Why being able to Read Other People's Eyes and gaze is more important than listening to what they are saying
The 2 Great Secrets to Winning Over the Curiosity and Trust of Other People Making them Feel Comfortable with You
Although the Human Mind is Very Complex and people daily strive to hide their true self and their real intentions, Thanks to the Explanation and Tricks described in this Step-by-Step Guide anyone can Improve their loving, friendly and working Relationships exploiting their Body Language.
You don't have to be a psychologist and you don't need any secret skills. All You Need are the Right Techniques that You will Find in this Book and some daily work.
If you are ready to
Discover the Secrets of the Nonverbal Communication
and T
urn Your Relationships and Your Life Around
, Scroll to the Top of the Page and Select the
BUY NOW
Button.