Navigating the Patent System: Learn the Whys of the Fundamentals and Strategies to Protect Your Invention (Paperback)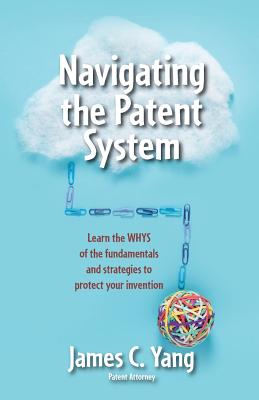 $14.95

Usually Ships in 1-5 Days
Description
---
ATTENTION: Inventors and startups
Is the patent system confusing to you?
"Knowledge itself is power" - Sir Francis Bacon (1597).
Knowledge gives you additional confidence because with the right information:
1) the correct next steps will be clearer,
2) you will be more informed about the choices you make, and
3) you will have peace of mind about the decisions you make.
Navigating the Patent System will give you more clarity regarding your potential next steps and increase your confidence as you make your patenting decisions. This is not a substitute for legal advice. Retain a patent attorney to help you through the patent process.
The patent system is systematically explained so that you can get a better sense what the right next steps for you might be. The 7 Core Concepts is a systematic way of learning about the patent system. The 7 Core Concepts helps you to have a clear sense of what your options are.
*** Section 1: 7 Core Concepts
The 7 Core Patent Concepts form the informational foundation that every inventor and startup should know to be prepared to make smarter decisions. The information is not exhaustive and is presented in a clear, easy-to-understand manner. Rather than a lengthy, dry discussion of laws and rule, it gives you what you need to know when you go through the patent process to mitigate mistakes and to eliminate the possibility of wasting time and money. When necessary, the essential information is covered in more depth since you sometimes do need to roll up your sleeves if you want clarity and confidence regarding the decisions you are making.
*** Section 2: Patent Applications
The mechanics and strategies of preparing a patent application are also included. The information is not meant to teach you how to prepare your own patent application. Instead, it is presented here so that you can participate in a more thoughtful review of the patent application with your patent attorney. The goal is for you to be more informed; therefore, you can be a more active participant in your collaboration with your patent attorney.
The information will explain how difficult it is to correctly prepare a well written patent application. The complex nature of the patent document will allow you to understand the necessity and role of a patent attorney in the preparation of a well written, successful patent application. Please do not assume that this book is preparing you to do it yourself. Navigating the Patent System is intended as a tool to prepare you to ask more meaningful, precise questions of your patent attorney.
*** Section 3: FAQs
Answers to frequently asked questions are also included. I've fielded questions from inventors, startups and clients since 2004. Oftentimes, attorneys give clients just enough information to understand why they need to follow the steps that the attorney thinks are the appropriate next steps. The FAQs section provides a broader discussion of topics so that the inventor and startup can have a clearer picture of the overall landscape. Thus, they can have more clarity regarding the pros and cons of each choice and make a more informed decision.
This book is a discussion of many of the most critical issues one needs to be aware of when utilizing the patent system.
The information revolution has made knowledge easy and inexpensive to access. In Navigating the Patent System, I share with you the wealth of information that I have collected from my collaboration with clients and inventors for over 13 years. With the knowledge that I lay out in this book, you can have more control over your decisions by asking more precise questions and actively participating in a collaborative partnership with your patent attorney.