Your Ultimate Guide to MIPS, 2018 Edition (Paperback)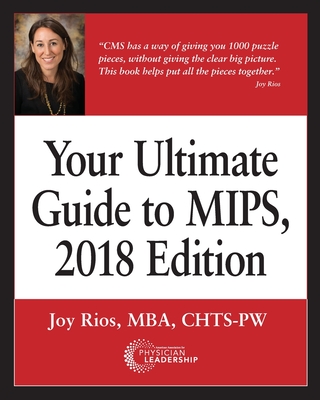 $54.00

Usually Ships in 1-5 Days
Description
---
Your Ultimate Guide to MIPS, 2018 Edition
By Joy Rios, MBA, CHTS-PW
CMS has a way of giving you 1000 puzzle pieces, without giving the clear big picture. This book helps put all the pieces together.
Finally A decoded, organized, easy-to-read, concise, and detailed reference and teaching tool for MIPS with everything you need to be successful for all physician practices A must read for practice managers, administrators, executives, or clinicians navigating MIPS, Health IT Consultants and anyone interested in the details of the CMS, Merit Based Incentive Payment System (MIPS).
This practical, action-oriented book by Joy Rios, MBA, CHTS-PW (in print or eBook) is a comprehensive guide to all MIPS program categories. This book will help stakeholders navigate the MIPS program and its nuances in easy to understand terms to help achieve MIPS program success.
In the current landscape, it up to the practice employee to do the research and understand the program. Rather than aggregating all of the information that is available online, let Joy Rios and this book do it for you - using this guide will take the pressure off you and your staff members You will enjoy a sense of empowerment in being able to take the information in the book and apply it directly to your practice - to have more meaningful conversations with EHR vendors, billers/coders, etc.
Healthcare is moving from a pay-for-service model to a pay-for-performance model. Many - in fact, arguably most - healthcare professionals do not understand how this will happen. Your Ultimate Guide to MIPS for 2018 gives you a full spectrum of content.