AFRICAN AMERICAN LAWMEN, 1867-1877, vol.1 (Hardcover)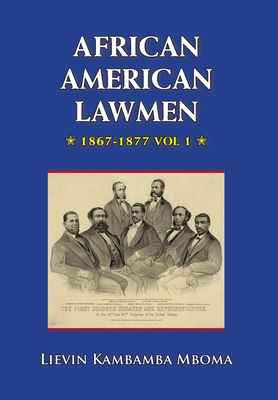 $39.50

Usually Ships in 1-5 Days
Description
---
AFRICAN AMERICAN LAWMEN, 1867-1877 explores the understudied topic of African Americans in law enforcement, as well as in executive and elected political offices during the Reconstruction Era. During this historical period, African Americans served in various capacities, including as policemen, justices of the peace, judges, and correctional officers. Additionally, African Americans were empowered with regulatory duties at the local, state, and federal levels such as serving as tax collectors, school inspectors, sanitary inspectors, county board of supervisors, city appraisers, street commissioners, and assessors. Moreover, they held executive offices at the city and state levels as mayors and lieutenant-governors. Furthermore, they were elected as congressmen and senators.
Mboma analyzes the reconstruction policy approaches of Presidents Abraham Lincoln and Andrew Johnson along with the views of radical lawmakers regarding the readmission of seceded states. Within this context, Congressman Thaddeus Stevens's radical reconstruction vision is also explained.
This work also examines the employment of African Americans in states and districts like Indiana, Illinois, Tennessee, and Washington, D.C., that were not subjected to Reconstruction.
Mboma objectively tackles the difficulties faced by lawmakers regarding the readmission of rebel states and the specific strategies used to overcome constitutional dilemmas during the readmission process.