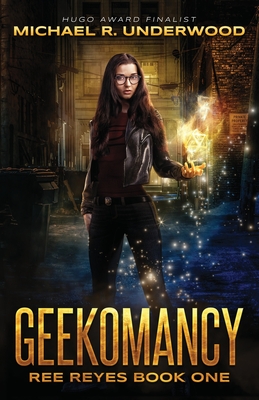 $16.99

Usually Ships in 1-5 Days
Description
---
Clerks meets Buffy the Vampire Slayer in this original urban fantasy book about Geekomancers - humans that derive supernatural powers from pop culture.
Ree Reyes's life was easier when all she had to worry about was scraping together tips from her gig as a barista and comic shop minion to pursue her ambitions as a screenwriter.
When a scruffy-looking guy storms into the shop looking for a comic like his life depends on it, Ree writes it off as just another day in the land of the geeks. Until a gigantic "BOOM " echoes from the alley a minute later, and Ree follows the rabbit hole down into her town's magical flip-side. Here, astral cowboy hackers fight trolls, rubber-suited werewolves, and elegant Gothic Lolita witches while wielding nostalgia-powered props.
Ree joins Eastwood (aka Scruffy Guy), investigating a mysterious string of teen suicides as she tries to recover from her own drag-your-heart-through-jagged-glass breakup. But as she digs deeper, Ree discovers Eastwood may not be the knight-in-cardboard armor she thought. Will Ree be able to stop the suicides, save Eastwood from himself, and somehow keep her job?