Conjuring Moonlight (Paperback)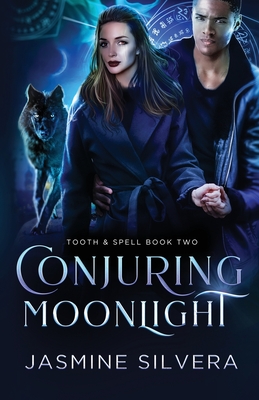 $15.95

Usually Ships in 1-5 Days
Description
---
Evie Acaz lost faith in magic when it failed to save her family, but she'll never escape its influence. Her talent with numbers makes her indispensable to a power-hungry mob boss, and her ability to see death coming brings a warning she knows better than to ignore. Her only option: a risky ruse that ends in her vanishing without a trace. A summer fling in the woods with an enchanting stranger is not part of her plan.
A job for Prague's most prominent gentleman's club is the chance Mark Vogel needs to get his fledgling construction company off the ground. Keeping his crew away from the scantily clad women is easy. Overlooking his client's ties to the mob is harder. Pretending not to recognize the club's bookkeeper from the woods last summer-the one who makes his wolf's nose twitch? Impossible.
Evie is the first person who doesn't want or need Mark's help, but his wolf recognizes the jaws of the trap at her feet. And she can't pretend she isn't intrigued that his is the one death she can't see. Forbidden passion is tested when Evie and Mark uncover the terrifying secret hidden within the criminal's books, but neither divines the danger the discovery brings. Now the only thing standing between magic and the mob are a witch and a wolf with everything to lose.
About Conjuring Moonlight:
Conjuring Moonlight is the second book in the TOOTH & SPELL trilogy, a prequel to the GRACE BLOODS series. Set in the same universe and chronologically before Death's Dancer, the Tooth & Spell trilogy is the story of three extraordinary brothers in a city where the price of revealing your magic is death.
Each book has a HEA and can be read as a standalone-though you may enjoy it more if you've read the GRACE BLOODS books