David Margrave: The Plumber Who Outwitted the IRS (Paperback)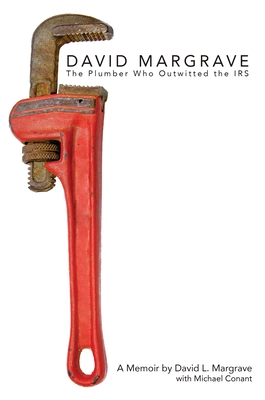 $14.95
Email or call for price
Description
---
The entirety of our monetary system has been proven to be flawed by a small-town South Pasadena, California plumber. How flawed? He paid not only his bills and the IRS, legally, in gold and silver coins, he never utilized standard notes, checks or credit cards for over 30 years.

David never set out to "beat the system." He set out to work within the system, as defined to the letter by our lawmakers and founding fathers. To get there, he has fought federal politics, faced prison time, divorced his wife due to bureaucratic necessity, was threatened with his fair share of violence and death threats and is considered a "conspiracy theorist" by many.

His years of research into the history of money and coins in the United States and his unparalleled knowledge of the IRS code, set this David on a crash course with the Goliath IRS that only Howard Hughes before him had dared attempt.  He is the only known American to have lived entirely on the gold standard, legally.
About the Author
---
A resident of South Pasadena since 1972, David Margrave attended Pasadena City College, Cal State and L.A. Trade Tech. He was a Veteran of the Vietnam War serving as a Seaman aboard a U.S. submarine.  He was a licensed pilot and former Vice Commander of the South Pasadena Post 140 American Legion. David served as a South Pasadena Councilmember from 1982 to 1986 and 2003 to 2007, and has been recognized as South Pasadena Businessman of the Year and Citizen of the Year. He was instrumental in the reconstruction of South Pasadena's Garfield Youth House after a fire destroyed it. David was the owner of Morrow & Holman Plumbing, Inc. and vice-chairman on the Natural Resources Commission. He was a volunteer referee for A.Y.S.O (American Youth Soccer Organization) and various high school teams throughout the area and was the past chairman of the 4th of July Committee. Every year his family built floats for South Pasadena's Fourth of July Parade — which Margrave helped start in the 1980s. He spent his own money to support the firework displays in its first year. David also appears briefly in the Halloween movie franchise as recognition for single-handedly saving Michael Myers house from bulldozers (he purchased the house with a silver dollar).The house exists today in South Pasadena and is visited regularly by movie fans.
Michael Conant is the publisher and founder of Incorgnito Publishing Press. Before entering the world of book publishing, Michael spent over twenty years in b2b publishing as a circulation, sales, and marketing executive where he managed products across several industries, with a concentration in financial markets. Prior to a publishing career, Michael pursued a love of theater as an actor, singer, director, and producer in productions at regional, summer stock, and dinner theaters. Michael introduced NY audiences to the premier of Hal Shaper's musical adaptation of Jane Eyre, which included a very young Alyssa Milano as Rochester's ward, Adelle. After moving to Pasadena, CA, Mr. Conant joined forces with a group of Mito Moms and lead their effort, as the founding president, to secure non-profit status for their newly formed, CureMito. The new organization helped to raise awareness and funding for Dr. Richard Boles' Mitochondrial Disease research at Los Angeles Children's Hospital. In between publishing duties and new writing efforts, Michael plays a lot of tennis with South Pasadena, Arroyo Seco teammates, and tries to spend time visiting his family and getting "puppy" kisses from his niece's lovable, crazy Bernedoodle, Bentley.