Lost Cactus: The Second Treasury (Paperback)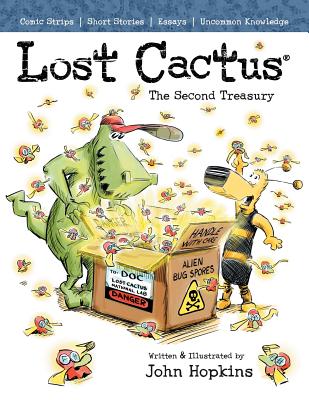 $36.99

Usually Ships in 1-5 Days
Description
---
Lost Cactus: Exposing shadowy, quasi-governmental monkey business and out-of-this-world antics in classic comic strip form, one panel at a time.
Grab your tinfoil hat and settle in with a coffee--or your beverage of choice--as you're about to read the next anthology of Lost Cactus comic strips depicting the continuing exploits, capers, and shenanigans of the comical cast of characters within these colorfully illustrated Second Treasury pages. You'll also discover shared universe short stories, tall tales, urban myths, random brain scatterings, and highly sensitive intelligence deemed too incendiary for public dissemination, until now. Remember, the truth is at Lost Cactus.
About the Second Treasury
Lost Cactus - The Second Treasury is the sequel to the first anthology originally published in 2015. Lost Cactus goes beyond the eponymous three-panel and Sunday comics with a diverse mix of sci-fi short stories, witty essays, poetry and original artwork blended with a plethora of trivia, artist commentary, maps, and quizzes. This framework is vividly woven together into an eye-catching, thought-provoking and entertaining book that transports the reader beyond the typical comic strip compilations found in the humor sections of bookstores and online.
Sit back and enjoy the Second Treasury and soak up all of the uncommon knowledge this anthology has to offer. Furthermore, if you feel compelled to don a tinfoil hat after reading Lost Cactus, don't be alarmed, you won't be the first.
About the Author
John Hopkins applies his distinctly original perspective on ever-evolving technologies, current events, and pop culture--along with his keen interest in science fiction, conspiracy theories, paranormal, and urban myths--to the comic strips, short stories, and essays that are Lost Cactus.