Stumbling Stone (Paperback)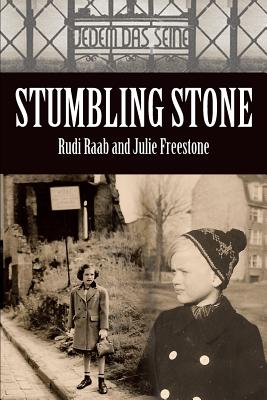 $14.95

Usually Ships in 1-5 Days
Description
---
Jewish women born to immigrant parents in the Bronx in 1944 don't get romantically involved with men who are cops, have German accents and look like Hitler youth leaders. But reporter Sarah Stern is drawn to Karl Schmidt and intrigued by his tangled family history. Stumbling Stone chronicles their journey across two continents and the discovery of sinister secrets they never could have imagined. This is a compelling work of fiction inspired by the remarkable histories of the authors.
Praise For…
---
In the aftermath of World War II, the millions of unburied ghosts of the Holocaust and the Third Reich were left to wander aimlessly around the blood-soaked earth of Europe. Freestone and Raab courageously unearth the tragic truth about one such soul and help to put his spirit to rest. Armand Volkas, Psychotherapist. Founder and Director, Healing the Wounds of History.
This well-written novel tells the remarkable, rare and unusually insightful story of a Nazi family in Germany. It helps to explain the virtually universal admiration and collaboration by the German people for Hitler and his henchmen, while also highlighting the brutality some courageous German dissenters experienced. Carl H. Rosner, born in Hamburg, Germany. Survivor of Buchenwald—Prisoner #38156.

A riveting story filled with suspense, Stumbling Stones reveals how everyday life affected the children of Nazis, as well as Germans who became victims of the Holocaust. Ruth Rosen, Professor Emerita of History, University of California, Davis.
Wars never end— they live on in the memories and silences of subsequent generations. Social progress depends on coming to terms with the painful reverberations. Through an accident of history, life partners Jewish journalist Julie Freestone and retired California cop and medievalist Rudi Raab (emigre son of a high-ranking Nazi and nephew of a Gestapo victim) are uniquely positioned to explore the tangled history of Nazism and the holocaust. Their story is framed as a "stumbling stone," the literary equivalent of a historical plaque common in Europe. Using fiction to bridge gaps in historical documentation, this fascinating perspective on the holocaust is as unique and unlikely as its authors' relationship. Peter Y. Sussman, journalist/author.