The Welsh Warrior through the Ages (Paperback)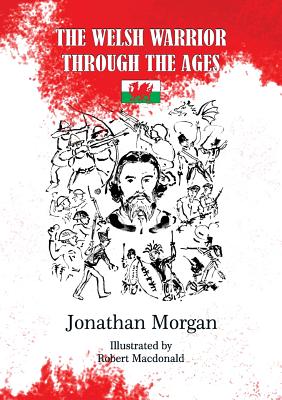 $12.99

Usually Ships in 1-5 Days
Description
---
It is probably a fact of history that, when a small country stands as an adjunct of a big, powerful country, the collective unconscious or psyche of that small country probably has the characteristics of an inferiority complex. In terms of the Welsh, the defeat and demise of both Prince Llewelyn and Owain Glyndwr have probably given them the role of victim or glory in defeat.
Regarding military prowess, it has been perceived that the Celts have sometimes been used as cannon fodder, coming from small impoverished countries while the British Army is run primarily by the English establishment who have wound up the Celts to prove themselves in battle. Hence the huge proliferation of gallantry awards acquired by the Celts.
The difference in some ways between the Welsh and the Scots and the Irish is that at the Battle of Bosworth in 1485 Henry Tudor, a self- acclaimed Welshman led a primarily Welsh army to defeat the English King Richard III and his army.
The Irish were terrorised partly by the Welsh in that Elizabeth Tudor put some of the Scots settlers into Ireland. Oliver Cromwell came from a Welsh brewing family called Morgan Williams who changed their name to Cromwell to curry favour with their powerful maternal uncle Thomas Cromwell in Henry VIII's reign.
Latterly, it was Lloyd George who was instrumental in putting the dreaded Black and Tans into Ireland. The Scots had the tradition especially in the Highlands of following the Pretenders, and they were defeated by the English. The Welsh therefore, certainly, should not have an inferiority complex.
The Welsh, like the Irish, have been great warriors and this book is a series of essays which praises their valour. There are themes that run through the book, one that is of chivalry started by the great King Arthur and which goes through many of the soldiers especially those in the Royal Welch Fusiliers with their great tradition of the war poets continued to this day by artists such as Sir Kyffin Williams, Major General Morgan Llewelyn and his son Glyn.
There have been exceptions of course, notably Captain Sir Thomas Picton who was a very cruel governor of Trinidad. There were great men like Lawrence of Arabia who attended the Welsh college of Jesus in Oxford, which was founded by a Welsh butcher's son, Hugh Price.
Wales is England's oldest ally; the Welsh archers fought with Edward I against the Scots. The archers were one of the great weapons of the English monarchy and won so many battles against the French. Today we celebrate 600 years since the Battle of Agincourt was fought, where 500 archers from Wales supported Henry V.
The Welsh have made their contribution in the navy over the years, and it is said that there were proportionally more Welshmen at Trafalgar than Englishmen. We all love freedom, but the Welsh, in particular, have nailed their colours to that mast.