Fabulous To Framed (Paperback)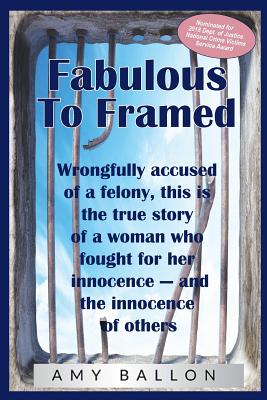 $19.95
Email or call for price
Description
---
With just one lie -- and from her own husband, no less -- successful Fort Lauderdale realtor Amy Ballon went from domestic violence victim to a woman charged with a felony in a matter of minutes. As she stood in her waterfront condo, still shaking from all that went on, Amy was surprised when a police officer asked her to take off her diamond bracelet.
Why, she wondered? "Because you're going to jail, '' the officer said.
How did all this happen? Amy's husband, a former police officer, got to the cops first after Amy escaped his grasp and called 911 to tell them she had been beaten. He appeared with a knife wound in his arm and said Amy had stabbed her.
it was just another lie from a man who had lied to Amy from the minute he met her. But the police officers responding to Amy's 911 call believed him.
So off to jail she went, and "Fabulous To Framed'' is the story of how all this could happen. It explains how a woman who had never been in legal trouble, was a pillar in the South Florida community and had sold more than $2-billion in real estate could wind up in jail.
It goes into great detail of what led to that incident, and what happened that night, an investigation that was handled so poorly that nearly two dozen violations of the Fort Lauderdale Police Department rules and regulations were found by experts after the fact.
It describes her 16-month journey to reclaim her innocence, and another journey just as long to have her name cleared.
"Fabulous To Framed'' is the courageous story of a woman who simply refused to take no for an answer. At every turn, she encountered one hurdle after another. She fought through them all.
What happened to Amy shouldn't happen to anyone, but it did. Now she fights to raise awareness for other innocent people who have been wrongfully accused of crimes.
Amy's story is one of courage, tenacity and determination. It's a must-read.