River of Angels: A Novel of Cultural and Environmental Conflict (Generation of Secrets #1) (Paperback)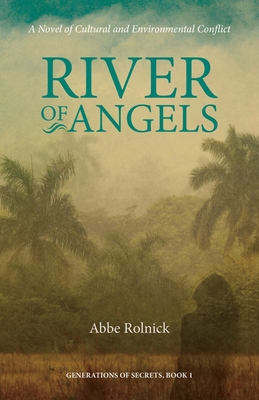 $16.99

Usually Ships in 1-5 Days
Other Books in Series
This is book number 1 in the Generation of Secrets series.
Description
---
"You will delve into political intrigue & apathy, betrayal, self reflection, and finding inner strength, and what true friendship and trust can achieve.... I am very impressed with the writing and the deep emotional connections I felt with the main characters." - KimKat, Verified Reviewer

When a prostitute is beaten on a Caribbean Island, no one realizes that this seemingly minor event will light a fuse to blow apart the old, corrupt social order.

Pursuing healing for the wounded young woman and for other poor workers, members of the community become targets of ruthless entrepreneurs planning to reap big profits while despoiling the island's rich environment.

Readers will meet Monica, a prostitute by choice who controls every aspect of her life and her bordello until her world crumbles; Rosie, an American professor and healer who must forsake her roles of teacher and wife as she faces her husband's involvement in the schemes; Pide, a homeless beggar who brings unexpected wisdom, humor, and friendship to those he touches; Abuelita and Don Tuto who are leaders of the island outcasts who live in the darkness of its vast cave system and underground river, and guide the way to a new relationship with the land.

The reader will feel the vibrant, rich world of the exotic, the struggles that still exist, and will be better for it.

"If you enjoy a well written book that transports you to another place and explores the complexities of human nature, I recommend you read River of Angels."- Miss A, Verified Reviewer



Read the entire Generations of Secrets series:

1. River of Angels, "an absorbing drama with extraordinary characters." (Kirkus)
2. Color of Lies, "a well-researched novel that highlights community."(Kirkus)
3. Founding Stones, "the author's pithy writing helps retain a discernable tension."(Kirkus)
About the Author
---
Abbe Rolnick grew up in the suburbs of Baltimore, Maryland. Her first major cultural jolt occurred at age 15 when her family moved to Miami Beach, Florida. To find perspective, she climbed the only non-palm tree at her condo complex and wrote what she observed. History came alive with her exposure to Cuban culture. After attending Boston University, she lived in Puerto Rico,where she owned a bookstore.

River of Angels flows from her experiences in Puerto Rico and is the first novel in her Generations of Secrets series. She continues with Color of Lies, bringing the reader to the Pacific Northwest where she presently resides. Here she blends stories from island life with characters in Skagit Valley. The third in the series, Founding Stones was recently published and continues with characters from her two previous novels. Her readers describe the series as "deep and meaningful," with "complex relationships" that "transport you to a different place" with "a plot worthy of the cedar-scented NW atmosphere."

Her recent experiences with her husband's cancer inspired Cocoon of Cancer: An Invitation to Love Deeply, a love story that shares intimate tips for caregivers and family. Tattle Tales: Essays and Stories Along the Way is a compilation of twenty years of writing. These two books show a "skill for writing that brings a cluster of sunshine through the dim of darkness," where "you can feel the author's presence."

An avid world traveler, Abbe can be found with her husband Jim in Africa, Southeast Asia, South America, Sri Lanka, the Middle East, and other exotic countries when they aren't at their home amid twenty acres in Skagit Valley, Washington, or visiting with her grown children and grandkids.

To learn more about her writings, Abbe's Notes and Abbe's Ruminations, visit her website, www.abberolnick.com. Abbe welcomes questions and requests for speaking engagements, and would love to hear from you.
Praise For…
---
"Rolnick weaves a story of tangled relationships and intrigue on a tropical island . . . where everyone struggles."  —Chuck Robinson, Co-Owner, Village Books, Bellingham, WA

"The sights and smells are rich in themselves, but the characters are what make this book come to life . . . with cultural nuances, facts and stories . . . All are treated with a combination of respect, curiosity, wonder, and affection that ensures they will endure."  —Joan Arioldi, Whatcom County Library Director

"...give away from Author Buzz sent out through Shelf Awareness to all bookstores." —www.authorbuzz.com

"Promotion to bookclubs to win 10-15 free books" —www.bookmovement.com

"... The understated mystery is solid... Rolnick's assertive prose generates a slow, steady pace and even moments of poetry: 'Teardops of sadness were meant to be swallowed so that the oceans would fill with only happy tears.' An absorbing drama with elaborate characters." —Kirkus Review

Mention: 1/4 page ad, Kirkus Review, www.kirkusreview.com
 

"A chance to review pages of River of Angles, with a short synopsis and other reviews included. Mention of author's other books and short bio." —http://www.seattlereviewofbooks.com/_wh_previews/sponsorships/ac5239da-4680-17e4-18d2-f11589d93cca/

"This is the first in Rolnick's Generations of Secrets Series. A small group of people in Puerto Rico face potential danger after a sex worker is brutally beaten. Rolnick's story is richly detailed, featuring characters with dense, intriguing backstories. American-born Rosie, for example, lost her Costa Rican father and American mother in a car accident on a mountain road that the local media wrote off as suicide. The author also makes Carlos exceedingly unlikable—a controlling man who disapproves of Rosie's attire and even blames her for a miscarriage. Although the novel mainly concentrates on melodrama and politics—locals protest the U.S. military's "bombing practice" on nearby Vieques Island—the understated mystery is solid. Rolnick's assertive prose generates a slow, steady pace and even moments of poetry: "Teardrops of sadness were meant to be swallowed so that the oceans would fill with only happy tears." An absorbing drama with elaborate characters." —Kirkus