Disrupt Politics: Reset Washington (Paperback)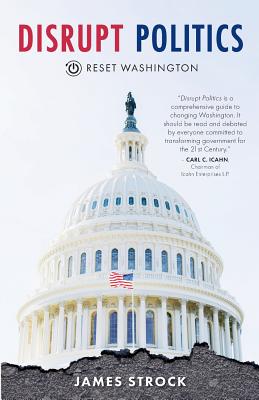 $16.00

Usually Ships in 1-5 Days
Description
---
We the People CAN Drain the Swamp.
November 8, 2016 will be remembered as an electoral earthquake.
Washington, DC is bracing for the most fundamental challenge to the status quo since Franklin Roosevelt assumed the presidency in 1933.
Donald Trump, against all odds, upended the Bush, Clinton, and Obama political machines. Now comes the ultimate challenge: Will President Trump tear down the Special Interest State that has dominated Washington for decades?
'Disrupt Politics' makes the case for fundamental reform. It exposes how Washington works. It presents an action plan for a peaceful revolution, returning power to We the People.
Whether you're in the fight--or just keeping score--'Disrupt Politics' will be your citizen's manual for creating a new American century.
PRAISE for DISRUPT POLITICS
"'Disrupt Politics' is a comprehensive guide to changing Washington. It should be read by everyone committed to transforming government for the 21st Century."
--Carl C. Icahn, Chairman of Icahn Enterprises, L.P
"Pundits as 'how' Donald Trump won in 2016. James Strock tells us 'why' in clear terms. 'Disrupt Politics' presents an actionable agenda to change Washington."
--Doug Watts, Political Strategist