Signature of Controversy: Responses to Critics of Signature in the Cell (Paperback)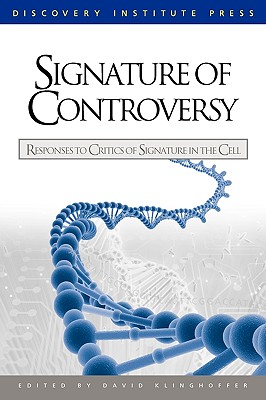 $12.95

Usually Ships in 1-5 Days
Description
---
Signature of Controversy is a response to the 2009 bestseller Signature in the Cell by Stephen C. Meyer, a book recognized as establishing one of the strongest pillars underlying the argument for intelligent design. To call Signature in the Cell important is an understatement. The critical response that followed the publication of Stephen Meyer's book was fascinating, but the fact is that few—if any—of the critics really grappled with the crux of Meyer's argument or with the substance of intelligent-design theory. This is remarkable and telling.  In Signature of Controversy, defenders of intelligent design analyze the hostile response using the critics' own writings.

Edited by David Klinghoffer and including essays by David Berlinski, Casey Luskin, Stephen C. Meyer, Paul Nelson, Jay Richards and Richard Sternberg.
About the Author
---
David Klinghoffer is a Senior Fellow at Discovery Institute in Seattle and a contributor to Evolution News & Views. He is the author of How Would God Vote?: Why the Bible Commands You to Be a Conservative (Random House, 2008.), Shattered Tablets: What the Ten Commandments Reveal about American Culture and Its Discontents (Doubleday, 2006), Why the Jews Rejected Jesus: The Turning Point in Western History (Doubleday, 2005), The Discovery of God: Abraham and the Birth of Monotheism (Doubleday, 2003) and the spiritual memoir The Lord Will Gather Me In (Free Press/Simon & Schuster, 1998), a National Jewish Book Award finalist.. A former literary editor of National Review magazine, Klinghoffer has written articles and reviews for the Los Angles Times, New York Times, Wall Street Journal, Washington Post, Seattle Times, Commentary, and other publications. He lives on Mercer Island, Washington, with his wife and children.