A Walt Whitman Songbook: A Song of the Rolling Earth for Voice and Piano (Paperback)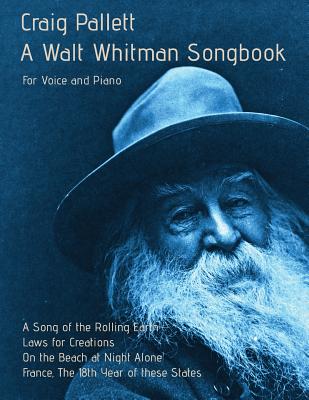 $16.99

Usually Ships in 1-5 Days
Description
---
A Walt Whitman Songbook contains 10 new musical works by Vermont based composer Craig Pallett. This songbook was created for Voice and Piano. It primarily explores Whitman's work called A Song of the Rolling Earth, from the 1891-92 edition of Leaves of Grass. The composer has not altered the natural flow of the text. Due to the length of A Song of the Rolling Earth he has broken the text into 7 different songs. The composer has named these, The Earths's Words, Amelioration, Never Fail, Three Hundred and Sixty-Five, Whoever You Are , I Swear and Tones of Souls primarily to help the public and musicians reference each song. Though it can be presented as a full suite, performance time is 35 minutes, each song can stand on it's own as an individual work.
Besides A Song of the Rolling Earth, the songbook includes 3 other Whitman works from Leaves of Grass, Laws for Creations, On the Beach at Night Alone and France, The 18th Year of these States.
From the Composers Notes.
"I chose not to alter Whitman's text in any way. This includes not repeating material or changing the structure of the actual text, both of which might make the works more "song-like". I wanted to have a sense of churning piano rhythms and patterns with a folk-like melody. Whitman's works that I chose are very rhythmically segmented verses many of them flow from one rhythmic structure to another. Sometimes only 2 verses flow in the same fashion, and then proceed into different ideas and forms. At times, there is a singular verse that has no rhythmic relationship to any other verse in his text."