Advanced Math Workbook for the SAT (Paperback)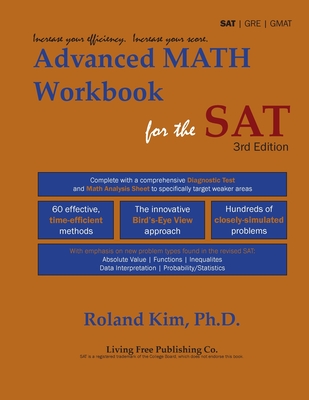 for information about purchasing this book, please contact orders@bookpassage.com
Description
---
SAT AND PSAT PREPARATORY WORKBOOK FOR THE MATH /QUANTITATIVE SECTION THAT HELPS HIGHLY MOTIVATED COLLEGE APPLICANTS WITH HIGHER THAN AVERAGE SCORE TO ACHIEVE THE PERFECT SCORE OR IMPROVE HUNDREDS OF POINTS IN A SHORT TIME BY INTRODUCING VARIOUS INNOVATIVE AND TIME EFFICIENT WAYS TO APPROACH AND SOLVE PROBLEMS
Unsatisfied with your average SAT OR PSAT math score? Unable to earn the last hundred (or few) points? Not confident that you know how to solve every type of question on the exam? Chances are, the problem may not be your knowledge of math, but your problem-solving efficiency.
While other SAT OR PSAT prep books predominantly focus on just finding the right answer (or even guessing), Dr. Kim's Advanced Math Workbook for the SAT emphasizes a crucial and often-overlooked step: identifying the problem type. This book capitalizes upon your extensive math knowledge by showing you not just how, but when to apply it. In addition, it introduces the innovative Bird's-Eye View approach, among other original and simple problem-solving strategies.
After going through the entire workbook, you will be surprised at the ease with which you will complete the SAT math test, as well as the amount of time you will have left over to check your work. There will be no need to guess. Reclaim your confidence and aim for nothing less than the perfect score
Increase your efficiency. Increase your score.
The Advanced Math Workbook series offers effective and time-efficient problem-solving strategies for the SAT, GRE, and GMAT. Find information about this book and others on www.advancedmathworkbook.com.