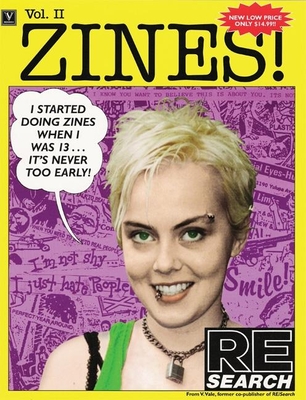 $14.99
Email or call for price
Other Books in Series
This is book number 2 in the Zines! series.
Description
---
Zines, Vol. Two has been used as a textbook in
university classes for cultural studies, journalism, and media
criticism. It includes a fantastic, in-depth interview with
Dishwasher Pete, whose goal was to wash dishes in every state of
America. Keffo of Temp Slave talks about very funny pranks on the job,
and advocates restoring the I.W.W. (International Workers of the World).
McJob continues the analysis of the workplace and its perils. John Marr
discusses his favorite bizarre murders in Murder Can Be Fun.
A history of proletarian novels is featured, plus reviews of many
independent publications.

About the Author
---
Johnny Brewton, interviewee: Johnny Brewton produces X-RAY, a publication whichmust be seen and touched to be fully appreciated. It features different coloredpapers, inserts, found photographs, color xeroxes and objects such asmatchbooks and Chinese fortunes--each issue is a hand-produced artwork, with notwo copies exactly alike. Growing up in Ventura, California, Johnny got involved inthe Los Angeles punk rock scene at the age of fourteen. A decade ago, he helpedproduce a zine, Sixty Miles North, and then published KandykornJackhammer, all the while playing bass and drums in bands such as M.I.A., Missiles of October, the Screaming Things, Frankenstein and Big BiscuitExpress. He has a small collection of early punk records, sixties Mexicanpunk/garage band recordings, and odd jazz, jug band and unclassifiable vinyl.As a hobby he plays the ukulele and musical saw. In his wanderings, Johnny isalways on the alert for found materials to incorporate in his outstanding andamazing X-RAY...