The Lost Notebooks of Sisyphus: A Novel with Commentary (Paperback)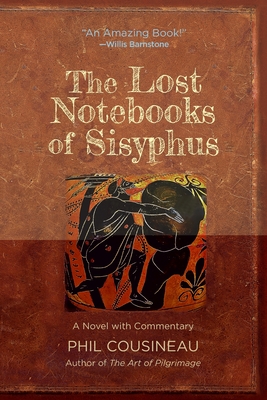 Description
---
For nearly three thousand years, King Sisyphus of Corinth has been one of the most compelling characters in world mythology. The iconic image of Sisyphus putting his shoulder to the boulder and pushing it to the summit of a mountain in the Underworld is recognizable the world over. To many poets and philosophers, from Homer and Aeschylus to Lucille Clifton and Albert Camus, the rebel hero has been a powerful symbol for hard-earned wisdom and the struggle to transcend suffering, while more skeptical commentators have interpreted Sisyphus' defiance of the gods as futile and doomed. In this mythopoetic novel, Phil Cousineau reimagines Sisyphus as telling his own tale through notebooks he kept while enduring his notorious punishment, which include surprising revelations about the self-sacrifice he made for his fellow Corinthians, his bold fight against the injustice of the gods, and the unbounded love for his wife and sons that earned him a second chance at life. The Lost Notebooks of Sisyphus is a timeless allegory that helps us come to terms with own daily struggles and shines new light on Camus' existential conclusion that, "We must imagine Sisyphus as happy."
I am Sisyphus, King of Corinth, great-great-grandson of Prometheus, great-grandson of Deucalion and Pyrrha, grandson of Hellen and Orseis, son of Aeolus and Enarate, husband of Merope, father of Glaucus, Ornytion, Almus, and Thersander, and grandfather of Bellerophon, slayer of the Chimera.
I am a champion of navigators, sailors, athletes, merchants, poets, and playwrights, and an enemy of tyrants, despots, bullies, ruffians, and demagogues. I honor the gods and goddesses by building splendid temples, holy shrines, and sacrificial altars worthy of their glory.
Many men deep am I, as my mentor, the deep-browed, long- bearded, wise-counseling Alexandros of Milos described me.
What I am not is a scoundrel, as scandalmongers have impugned across the centuries while exonerating the cruel gods who condemned me.