The Lost Notebooks of Sisyphus (Hardcover)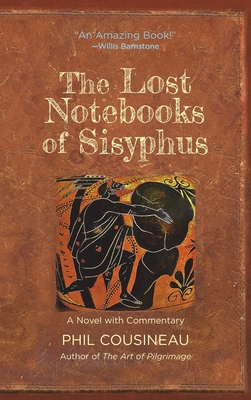 $25.00

Usually Ships in 1-5 Days
Description
---
For nearly three thousand years, King Sisyphus of Corinth has been one of the most compelling characters in world mythology. The iconic image of Sisyphus putting his shoulder to the boulder and pushing it to the summit of a mountain in the Underworld is recognizable the world over. To many poets and philosophers, from Homer and Aeschylus to Lucille Clifton and Albert Camus, the rebel hero has been a powerful symbol for hard-earned wisdom and the struggle to transcend suffering, while more skeptical commentators have interpreted Sisyphus' defiance of the gods as futile and doomed. In this mythopoetic novel, Phil Cousineau reimagines Sisyphus as telling his own tale through notebooks he kept while enduring his notorious punishment, which include surprising revelations about the self-sacrifice he made for his fellow Corinthians, his bold fight against the injustice of the gods, and the unbounded love for his wife and sons that earned him a second chance at life. The Lost Notebooks of Sisyphus is a timeless allegory that helps us come to terms with own daily struggles and shines new light on Camus' existential conclusion that, "We must imagine Sisyphus as happy."
"A glorious saga. A tale for the ages told with uncommon depth, poetry and grace. To understand the myth of Sisyphus is to know that the long-haul matters and that there is a kind of nobility in our suffering and a deeper meaning in our perseverance. We need this book to correct the shallow misconceptions about Sisyphus and initiate us into in the mysteries of this archetypal story."
"Phil Cousineau is a devoted voyageur and writer. It has been a pleasure to read his great adventure about Sisyphus. I am happy to spend time with his always amazing work."