Mirror on the Soul: The First Nathen Turner Novel (Paperback)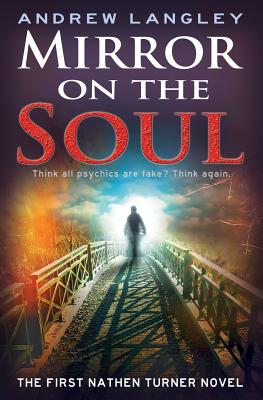 $11.99

Usually Ships in 1-5 Days
Description
---
Sun, sea, sand and ... a psychic.
Meet Nathen Turner - a normal man with a paranormal gift. He just doesn't know it yet ...
From Las Vegas to Whitby, psychic medium Nathen Turner offers comfort and closure to his loyal clientele. But it is all an act - Turner doesn't believe in the spirit world or any form of afterlife. He fakes his 'special abilities' using a bagful of conjuring tricks and intuition. Then, during a sham's ance, a ghostly voice calls out to him. The 'fake' psychic medium has unwittingly opened a very real door into the supernatural. A door that has humorous, and frightening consequences.
Set in Las Vegas, Whitby and Japan, Mirror on the Soul is the first novel in the Nathen Turner supernatural thriller series. The novel is a fast-paced and humorous thriller steeped in supernatural lore that explores the techniques used by fake psychic mediums.
Praise for Mirror on the Soul:
"A fun romp for any reader." - Amanda Monell for US Review Site, Readers' Favorite.
"Gripping and original, with unforgettable characters ... a frighteningly good read." - Jack Magnus for US Review Site, Readers' Favorite.
"Fast paced thriller steeped in supernatural lore. Plenty of thrills and enough humour that fans of the genre will happily dive into the world of Nathen Turner and enjoy their stay. A thrilling start for what promises to be an intriguing series." - Kayti Nika Raet for US Review Site, Readers' Favorite.
"Atmospheric and entertaining thriller, told with style and humour." - Karol Griffiths, Hollywood script editor.
About the author:
British author, Andrew Langley, started writing professionally over thirty years ago to accompany his work as a photojournalist. In a wide-ranging career that has seen him travel the world, his work has featured in national newspapers, a number of books and on television. With the onset of multiple sclerosis, Andrew now lives a more sedentary lifestyle, creating his new adventures on paper. Mirror on the Soul is his debut novel.
Want to read more about the mysterious world of the psychic and explore the haunting settings in the books? Sign up for the Haunting Tales newsletter at andrewlangley.co.uk and join the growing group of Nathen Turner fans.
Nathen Turner returns in Dark Nights of the Soul, due for release Halloween 2016.