How the Garcia Girls Lost Their Accents (Hardcover)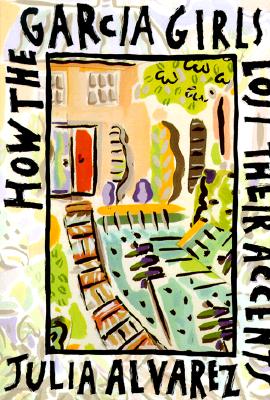 Description
---
The Garcías—Dr. Carlos (Papi), his wife Laura (Mami), and their four daughters, Carla, Sandra, Yolanda, and Sofía—belong to the uppermost echelon of Spanish Caribbean society, descended from the conquistadores. Their family compound adjoins the palacio of the dictator's daughter. So when Dr. García's part in a coup attempt is discovered, the family must flee.

They arrive in New York City in 1960 to a life far removed from their existence in the Dominican Republic. Papi has to find new patients in the Bronx. Mami, far from the compound and the family retainers, must find herself. Meanwhile, the girls try to lose themselves—by forgetting their Spanish, by straightening their hair and wearing fringed bell bottoms. For them, it is at once liberating and excruciating being caught between the old world and the new, trying to live up to their father's version of honor while accommodating the expectations of their American boyfriends. Acclaimed writer Julia Alvarez's brilliant and buoyant first novel sets the García girls free to tell their most intimate stories about how they came to be at home—and not at home—in America.



About the Author
---
Julia Alvarez left the Dominican Republic for the United States in 1960 at the age of ten. She is the author of six novels, two books of nonfiction, three collections of poetry, and eight books for children and young adults. Her work has garnered wide recognition, including a Latina Leader Award in Literature in 2007 from the Congressional Hispanic Caucus Institute, the 2002 Hispanic Heritage Award in Literature, the
2000 Woman of the Year by Latina magazine, and inclusion in the New York Public Library's 1996 program "The Hand of the Poet: Original Manuscripts by 100 Masters, from John Donne to Julia Alvarez." A writer-in-residence at Middlebury College, Alvarez and her husband, Bill Eichner, established Alta Gracia, an organic coffee farm–literacy arts center, in her homeland, the Dominican Republic.

Praise For…
---
"[A] joy to read." —The Cleveland Plain Dealer

"Poignant . . . Powerful . . . Beautifully capture[s] the threshold experience of the new immigrant, where the past is not yet a memory." —The New York Times Book Review

"Subtle . . . Powerful . . . Reveals the intricacies of family, the impact of culture and place, and the profound power of language." —The San Diego Tribune

"A clear-eyed look at the insecurity and yearning for a sense of belonging that are a part of the immigrant experience . . . Movingly told." —The Washington Post Book World