Firescaping: Protecting Your Home with a Fire-Resistant Landscape (Revised) (Paperback)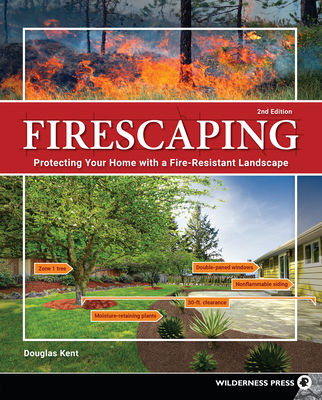 Description
---
Learn the Essentials of Creating Beautiful, Fire-Resistant Properties
With wildfires getting more frequent and ferocious, approximately 120 million US citizens live with the threat of being overrun. Are you one of them? If so, Firescaping helps you create a safer environment. This unique form of landscaping design keeps your property healthy, clean, and clear. Land management expert Douglas Kent shares decades of experience working in many of the nation's most flammable areas.
Get the information needed to determine your property's degree of fire risk. Learn effective design strategies for your home and landscape, as well as key characteristics that make your property more accessible to firefighters. With checklists, simple instructions, and tips that truly work, this practical, hands-on guide is a valuable resource for homeowners, business owners, landscape professionals, and fire protection agencies. If you live in an area at risk, this book can help to prepare you and give you peace of mind.
About the Author
---
Douglas Kent began work on Firescaping in 1992. He lived 25 miles northwest of the Tunnel Fire, which had devoured 25 lives and 2,900 homes in the Berkeley/Oakland Hills area of California. Both frightened and inspired, Kent began to compile a guide that would help prevent others from enduring such a tragedy. In the years since, Kent has toured, worked with, and spoken to high-risk communities throughout California. He has been on the front lines of wildfires and has interviewed many survivors. With this edition of Firescaping, he uses all his years of fire experience to create a comprehensive resource that homeowners and at-risk communities nationwide can use to create more fire-resistant landscapes and structures. Kent has 27 years of soot-filled experience in firescaping, but that is far from his only credential. He started gardening in 1979 and has written six other books, has worked on hundreds of landscape projects, has helped lead four statewide gardening campaigns, and has taught at California Polytechnic University, Pomona, since 2008.