The Agony of Jesus: In the Garden of Gethsemane (Paperback)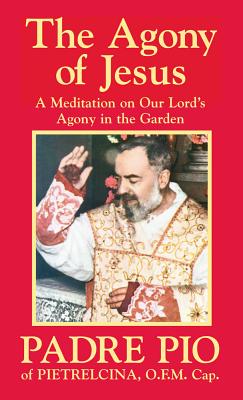 $4.95

Usually Ships in 1-5 Days
Description
---
A true treasure of spiritual insights, this little booklet contains the remarkable meditations on the Agony of Jesus in the Garden of Gethsemane by Blessed Padre Pio, the stigmatist priest. One of his few writings, the booklet also includes many pictures of Blessed Padre Pio from throughout his ministry. Padre Pio's beautiful and descriptive manner of writing provide a wonderful spiritual insight into that last night of Jesus' human life.

Excerpt:

"Jesus has returned to His place of prayer, and another picture, more terrible than the first, presents itself to Him. All our sins with their entire ugliness parade before Him in every detail. He must clothe Himself with this entire unclean mass of human corruption and present Himself before the sanctity of His Father, to expiate everything with individual pains, to render Him all that glory of which they have robbed Him, to cleanse that human cesspool in which man wallows with contemptible indifference.

And all this does not make Him retreat. As a raging sea this mass inundates Him, enfolds Him, oppresses Him. Behold Him before His Father the God of Justice, facing the full penalty of divine justice. He, the essence of purity, sanctity by nature, in contact with sin, indeed, as if He Himself had become a sinner Who can fathom the disgust that He feels in His innermost spirit? The horror He feels? The nausea, the contempt He senses so vividly? And having taken all upon Himself, nothing excepted, He is crushed by this immense weight, oppressed, thrown down, prostrated. Exhausted, He groans beneath the weight of Divine Justice, before His Father, Who has permitted His Son to offer Himself as a Victim for sin, as one accursed."
About the Author
---
St. Pio of Pietrelcina was born as Francesco Forgione in 1877 at Pietrelcina, Italy. At the age of five he reportedly decided to dedicate his life to God, becoming a novice of the Capuchin Friars ten years afterward with the customary vows of poverty, chastity, and obedience. He received Holy Orders in 1910, and subsequently served many of the faithful as a spiritual director. Though he suffered a great deal both spiritually and physically, he always remained firm in the confidence of Jesus, Mary, and his Guardian Angel. Padre Pio was also a famed Stigmatist, and died on the twenty-third of September, 1968. He was canonized by Pope John Paul II in 2002, and his feast is celebrated on the twenty-third of September.