Recovering the Lost Tools of Learning, 12: An Approach to Distinctively Christian Education (Turning Point Christian Worldview #12) (Paperback)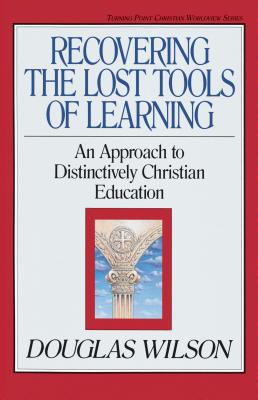 Description
---
Public education in America has run into hard times. Even many within the system admit that it is failing. While many factors contribute, Douglas Wilson lays much blame on the idea that education can take place in a moral vacuum. It is not possible for education to be nonreligious, deliberately excluding the basic questions about life. All education builds on the foundation of someone's worldview. Education deals with fundamental questions that require religious answers. Learning to read and write is simply the process of acquiring the tools to ask and answer such questions.
A second reason for the failure of public schools, Wilson feels, is modern teaching methods. He argues for a return to a classical education, firm discipline, and the requirement of hard work.
Often educational reforms create new problems that must be solved down the road. This book presents alternatives that have proved workable in experience.
About the Author
---
Douglas Wilson (MA, University of Idaho) is a pastor, a popular speaker, and the author of numerous books. He helped to found Logos School in Moscow, Idaho, and is currently a senior fellow of theology at New St. Andrews College. He blogs regularly at DougWils.com.Marvin Olasky (PhD, University of Michigan) is the editor in chief of World magazine, holder of the distinguished chair in journalism and public policy at Patrick Henry College, and senior fellow of the Acton Institute. He was previously a professor at the University of Texas at Austin, a Boston Globe reporter, and a Du Pont Company speechwriter. He is the author of twenty books and more than 3,500 articles. He and his wife, Susan, have four sons.