Making Waves: Three Radio Plays (Paperback)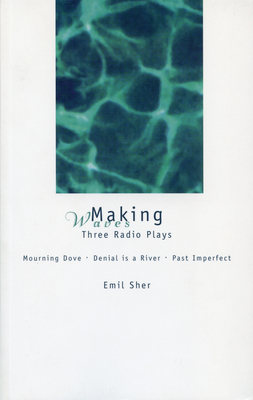 $18.99
Email or call for price
Description
---
The three plays in Making Waves are all centred on characters who have made waves by taking a moral stand rooted in an unshakable belief. Drawn from national headlines that caused passionate debates across the country, the stories in Making Waves go beyond the facts of the stories to explore the human soul.
Mourning Dove - inspired by the first trial of Robert Latimer - tells the story of Doug Ramsay's decision to kill his disabled daughter, Tina, who has known nothing but pain. Doug is forced to reconsider his decision when it is viewed through the prism of his relationship with Keith, a friend with Down's syndrome.
Mourning Dove won the Gold Medal at the New York Festivals, 1997.
Rochelle Pittman captured the nation's heart when she sued the Red Cross, her family doctor and a hospital for negligence in the death of her husband due to tainted blood. In Denial is a River, Hannah Kane (based on Rochelle) is determined to chronicle her first-hand experience with the medical establishment's paternalism before she dies.
Denial is a River was shortlisted by the Writers Guild of Canada as one of the Top Ten Scripts of 1996.
Past Imperfect goes beyond the incidental details of the Jean-Louis Roux affair - the former lieutenant governor of Qu bec who resigned his post when it was revealed that he had worn a Nazi swastika as a youth in a rally. The drama explores the boundaries of forgiveness as it unearths a dark moment from the past and asks whether the cry for justice should fade or reverberate.
About the Author
---
Emil Sher's dramas, fiction, and essays have been widely anthologized. His stage work includes Derailed, a play he wrote with Toronto's Stilleto Company that was nominated for four 1995 Dora Awards, including best production. He is currently adapting Mourning Dove for the screen and stage. Other projects include Face in the Crowd, a play for young audiences, and Sophie, So Far, a book about his first year as a father. All three plays in Making Waves were produced by and broadcast on CBC Radio.
Praise For…
---
"The boundaries of forgiveness are effectively examined in this sensitive and thought-provoking play."