Studies in Motion: The Hauntings of Eadweard Muybridge (Paperback)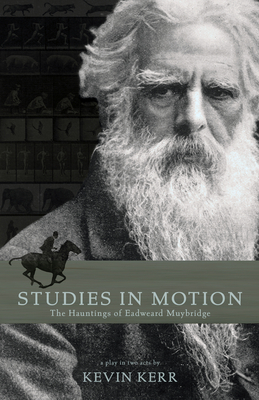 $18.95

Usually Ships in 1-5 Days
Description
---
Photographer Eadweard Muybridge's life was filled with the events of Victorian melodrama: adultery, jealousy, betrayal, murder, and an abandoned child. Tried for the murder of his wife's lover, he was acquitted on the grounds of justifiable homicide. However, these events, which predate his subsequent obsession with stopping time and freezing motion, become the ghosts that haunt Muybridge in the fictional world of Governor General's Award winning dramatist Kevin Kerr's new play, Studies in Motion. Attempting to absolve himself of the tragic consequences of his past actions by inventing a new world where action is neutralized by scientific analysis, Muybridge uses instantaneous photography to dissect time into its smallest possible fragments--to reconstruct his life, his identity and his legacy.
On the surface, these sequences of still photos signify a person committed to the emerging culture of modern science: understanding through controlled observation and rational analysis, using the potential of technology to transcend the limits of our own senses, to enhance our powers of perception. Women and men, usually nude, are presented performing "everyday" actions alongside movements that are ritualistic, comic, sensual, absurd and even diseased and pathological. The variations seem endless. There is a tension in the collected images: scientific, classical, elegant, erotic, startling, disturbing and grotesque. But taken together, particularly as the technology pioneered by Muybridge lead to the world of cinematography, they seem to say something else--to inescapably construct a narrative that has shaped our culture into one that objectifies human beings, where information is fragmented, mediated, where observations through the filter of technology are trusted more than those acquired directly through our physical senses, and set images into motion in the service of a public manipulation of perception as effectively as Muybridge himself used them in the revision of his own private mythology.
About the Author
---
Kevin Kerr is a playwright, director, actor and founding member of Vancouver's Electric Company Theatre. In the 1999/2000 season, he was Writer in Residence at Touchstone Theatre where he developed Unity (1918) (Talonbooks, 2002), which earned him the Governor General's Literary Award for Drama. He is the recipient of three Jessie Richardson Awards for Outstanding Original Play (Brilliant!, The Score and Unity) and his work has been produced across Canada, in the United States, United Kingdom, France and Australia.