King of Thieves (Paperback)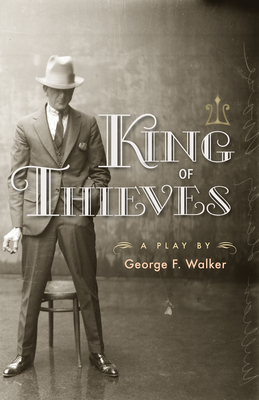 $17.95

Usually Ships in 1-5 Days
Description
---
New York City, 1928. Master-thief Mac must join an FBI sting operation against a cadre of corrupt bankers. Music, murder, and mayhem ensue - at the speakeasy where criminals scheme and on Wall Street where financiers conspire.
This trenchantly satirical play was first produced at the Stratford Festival in 2009, where director Jennifer Tarver described it as being loosely based on John Gay's Beggar's Opera (1728) which was later immortalized in the great Brecht-Weill composition The Threepenny Opera (1928). Readers familiar with these works will delight in Walker's inspired pairing of Mac and Polly, Peachum and his missus, Jenny Diver, and a host of others within the corrupt world of Wall Street bankers immediately before the 1929 market crash. Readers meeting these characters for the first time will find much to enjoy in Walker's ready wit and keen sense of story.
When the FBI blackmails Peachum into helping bring down a group of corrupt bankers, he partners with Mac, his son-in-law, to discover that the bankers are using their wealth to inflate the market, plotting to pull their assets just before the bubble bursts. They scheme to make new for- tunes by providing loans after everyone else goes bankrupt. If all of this sounds distressingly familiar, it should.
At its heart, King of Thieves, like both its predecessors, is an examination of criminal behaviour at all levels of society, and of the disturbing truth that everyone can fall prey to dishonesty and corruption. But the element of fun in Walker's script makes us laugh and his sense of zaniness reflects the bafflement many of us feel when contemplating our own world: a place where men of dubious moral integrity still inhabit the corridors of power and are still not taken to task for their dishonourable - if not downright criminal - behaviour.
Cast of 11 men and 4 women.
About the Author
---
George F. Walker is one of Canada's most prolific and widely produced playwrights. His work has been honoured with eight Chalmers Awards and five Dora Awards. His plays Criminals in Love and Nothing Sacred each won Governor General's Awards for Drama. Productions of Nothing Sacred (1988) and Love and Anger (1990) have met with great success in the United States in New York, Los Angeles, Seattle, San Francisco and Chicago. Zastrozzi has had over 100 productions in the English-speaking world. Problem Child, included in the anthology Suburban Motel (1998), won a Chalmers Award for Best New Play. Two packaged collections of Walker's work were published in 1998: Somewhere Else (1998) and The East End Plays: Part Two (1998).In 1999, Talonbooks released The East End Plays: Part One (which includes Criminals in Love, the Chalmer's Award-winning Better Living, and Escape from Happiness) and The Power Plays (a collection containing Gossip, Filthy Rich, and The Art of War).Many of Walker's plays have been translated into German, French, Hebrew, Turkish, Polish and Czech. He has spent the past several years writing for television including CBS's Due South and CBC's The Newsroom.