Narrativ Enigma/Rumours UV Hurricane (Paperback)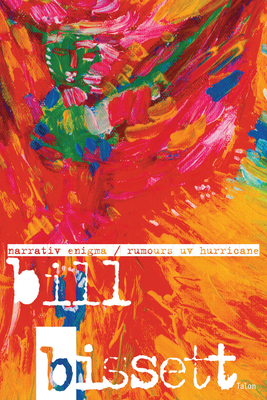 $13.95

Usually Ships in 1-5 Days
Description
---
th text below is an abbreeveatid transliterasyun uv bill bissetts own descripsyun uv his latest book.
"
narrativ enigma / rumours uv hurricane
is about the fragility and incompletion of all narratives, really. Stories, of course, can be condensed and are more portable, more understandable, and in so doing lose much of their efficacy and real accuracy--are often platforms of propaganda and spin, mostly--and what we settle for in order to experience stability, even some of the time. If there is any completion, that dynamic map, cartography, is with our makers, if we are created ... Is a story longer than a synapse? Is a story mostly an incomplete construct, and is constructed by ourselves? Every story has a loophole--pieces missing from the puzzle. The frailty within the neurological story is our frailty--our fragility--our aberrantly and very elaborately framed world of mythology--the other, silence, and very chattering explanations--all part of our attempts to create civil society with human rites. Yet seeded within these benign edifices of the minds and protocols and seeming accountabilities are the gaps and shorts and over or under imbalances, needed to create, and enough to undermine and topple everything. These are the 'rumours of hurricane, ' and why controlling psychotics can become world leaders. These problematics are also inevitably parts of all our magic. Hurricanes and rumours have high degrees of very zany unpredictabilities, and often come from the enigma of our narratives. The narrative, non-narrative, sound, song, meditation, metaphysical, spiritual, asking, political, visual poems discuss all the issues that are raised in the title."
About the Author
---
originalee from lunaria ovr 300 yeers ago in lunarian time sent by shuttul thru halifax nova scotia originalee wantid 2 b dansr n figur skatr became a poet n paintr in my longings after 12 operaysyuns reelee preventid me from following th inishul direksyuns-- bill bissettbill bissett garnered international attention in the 1960s as a pre-eminent figure of the counter-culture movement in Canada and the U.K. In 1964, he founded blewointment press, which published the works of bpNichol and Steve McCaffery, among others.bissett's charged readings, which never fail to amaze his audiences, incorporate sound poetry, chanting and singing, the verve of which is only matched by his prolific writing career--over seventy books of bissett's poetry have been published.A pioneer of sound, visual and performance poetry--eschewing the artificial hierarchies of meaning and the privileging of things ("proper" nouns) over actions imposed on language by capital letters; the metric limitations imposed on the possibilities of expression by punctuation; and the illusion of formal transparency imposed on the written word by standard (rather than phonetic) spelling--bissett composes his poems as scripts for pure performance and has consistently worked to extend the boundaries of language and visual image, honing a synthesis of the two in the medium of concrete poetry. Among bissett's many awards are: The George Woodcock Lifetime Achievement Award (2007); BC Book Prizes Dorothy Livesay Prize (2003) peter among th towring boxes / text bites; BC Book Prizes Dorothy Livesay Prize (1993) inkorrect thots.
Praise For…
---
"Touches on the great themes of humanityin bissett's inimitable way."
Monday Magazine

"bissett is one of the leading performance poets in Canada."
Flak Magazine