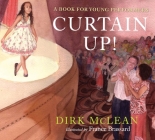 Description
---
Young Amaya is auditioning for a role in a professional play. Although she longs to perform, she is about to learn how much team effort and hard work is involved.

As the reader follows her progress from a nervous hopeful at an audition through the fittings for costumes, the rehearsals, the memory work, and even stage fright, Dirk McLean introduces the many people and jobs involved in staging a play. A glossary provides descriptions of terms like casting, choreography, and blocking. Written by an author with extensive firsthand theater experience, this is a must-have resource for young children who are performers. And for those who only dream of a career on stage, it is entertaining to share Amaya's journey and to feel the thrill of a peek behind the scenes.
About the Author
---
DIRK MCLEAN has been involved in the world of theater as an actor and playwright for most of his life. He has performed in Canada in Toronto, Ottawa, Winnipeg, Calgary, Vancouver, and Victoria. In the U.S., he's performed in Buffalo, Chicago, Indianapolis, and on Broadway. He's also worked in the West End in London, in Johannesburg, and in Trinidad & Tobago, where he was born. Dirk McLean lives in Toronto, Ontario.

FRANCE BRASSARD has been fascinated by illustration since she received a tiny picture book in a Christmas stocking when she was a small child. After studying both interior and graphic design, she became an illustrator herself in the 1990s. With several books to her credit, she lives in a small city in Quebec with her son, Luke.