Precursor (Foreigner #4) (Mass Market)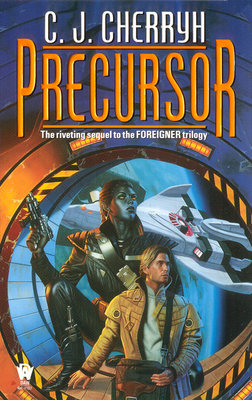 $11.99

Usually Ships in 1-5 Days
Other Books in Series
This is book number 4 in the Foreigner series.
Description
---
The fourth novel in Cherryh's Foreigner space opera series, a groundbreaking tale of first contact and its consequences…

Over three years have passed since the reappearance of the starship Phoenix, which two centuries before left an isolated colony of humans on the world of the volatile atevi. Since that time, humans have lived in exile on the island of Mospheira; but the unexpected return of the Phoenix has shattered the fragile political balance of these two nearly incompatible races. For the captains of the Phoenix offer the atevi something the Mospheiran humans never could—access to the stars.

For three breakneck years, the atevi labor to build a space shuttle which will bear their representatives to the Phoenix, to strengthen connections with their new human allies and retain their bid for control of their world. But as soon as the shuttle proves spaceworthy, the captains of the Phoenix suddenly recall their planetary delegates, breaking diplomatic contact and initiating a vicious bid for political dominance.

But the powerful head of the atevi's Western Association is not to be outmaneuvered, and he sends his own diplomat, or paidhi, Bren Cameron, into space to negotiate. Thrust into a political maelstrom with almost no preparation, can Bren gain control of the station and political supremacy for the atevi without sparking a three-sided interspecies war?
About the Author
---
C. J. Cherryh planned to write since the age of ten. When she was older, she learned to use a typewriter while triple-majoring in Classics, Latin, and Greek. With more than seventy books to her credit, and the winner of three Hugo Awards, she is one of the most prolific and highly respected authors in the science fiction field. Cherryh was recently named a Damon Knight Memorial Grand Master by the Science Fiction Writers of America. She lives in Washington state. She can be found at cherryh.com.
Praise For…
---
"A powerful look at the effects of alienation on individuals and societies...probably the best series installment of the year, and a welcome return from one of our very best writers." —Locus

"The novel features well-developed characters and Cherryh's trademark sophisticated political negotiations and strong prose. Of particular note is the author's ongoing exploration of the atevi, one of the more fascinating alien cultures ever imagined. Taken as a whole, this series represents mainstream SF at its very best." —Publishers Weekly

"Cherryh continues to explore the rich culture portrayed in the Foreigner trilogy with this first novel in a new series. Combining hard SF with realistically complex characters, this blend of adventure and intrigue in the far reaches of space belongs in most SF collections." —Library Journal

"Superior alien-contact series...another intriguing human/alien struggle." —Kirkus

"Once again, readers can revel in Ms. Cherryh's ravishing characterization and sensitive exploration of cultural subtleties." —RT Reviews