Succulent Container Gardens: Design Eye-Catching Displays with 350 Easy-Care Plants (Hardcover)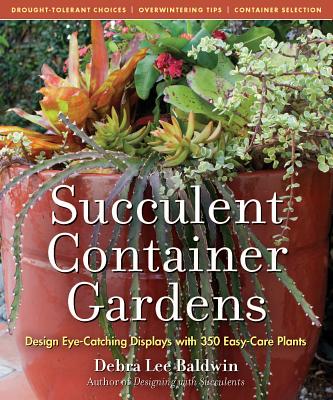 $29.95

Usually Ships in 1-5 Days
Description
---
Define your individual style.

With their colorful leaves, sculptural shapes, and simple care, succulents are beautiful yet forgiving plants for pots. If grown in containers, these dry-climate jewels—which include but are not limited to cacti—can be brought indoors in winter and so can thrive anywhere in the world.

In this inspiring compendium, the popular author of Designing with Succulents provides everything beginners and experienced gardeners need to know to create stunning container displays of exceptionally waterwise plants. The extensive palette includes delicate sedums, frilly echeverias, cascading senecios, edgy agaves, and fat-trunked beaucarneas, to name just a few. Easy-to-follow, expert tips explain soil mixes, overwintering, propagation, and more.
About the Author
---
Debra Lee Baldwin, an award-winning photojournalist, is widely hailed as the "Queen of Succulents." She helped launched the gardening world's interest in succulents with her first book, Designing with Succulents, and with her two other books Succulent Container Gardens and Succulents Simplified. Baldwin's own half-acre garden has been featured in Better Homes and Gardens, Sunset, San Diego Home and Garden, and other publications.
Praise For…
---
"There is plenty to inspire here, with lots of lovely photographs of plants spilling out of all manner of pots; and Baldwin's extensive information. . . has the hallmark of personal experience." —Booklist

"Seeing how gardeners turned birdbaths and tiered water fountains into flowing arrangements of sedum, aeonium, echeveria and crassula struck me as the perfect comeback to those who say succulents are boring." —Los Angeles Times

"Succulent Container Gardens lives up to all of my hopes and expectations for the book. . . . if you're thinking that 2010 will be the year you give succulents a try, this book will help you create a unique and beautiful pot or two or ten. Not to mention give you enough information to keep your new plants alive for many years to come." —Gardens Illustrated

"Offers plenty of ideas and inspiring photos to get you started." —Chicago Sun-Times
 
"With gorgeous photos on nearly every page, Debra Lee Baldwin's Succulent Container Gardens celebrates these low-water, easy-care plants and shows endless ways to display them in your garden." —Sunset

"This isn't just a book of photos. There are plenty of design ideas along with tips for growing these fascinating plants. In addition, you'll find a section on nonsucculent plants that make good companions." —Garden Gate

"There is plenty to inspire here, with lots of lovely photographs of plants spilling out of all manner of pots; and Baldwin's extensive information…has the hallmark of personal experience." —Apartment Therapy

"Baldwin will surely ignite a fire under green thumbs who are already drawn to this realm of intriguingly textural plants…Regardless of skill level, gardeners will draw on Baldwin's expert propagation advice for a cost-cutting way to expand one's garden." —Omnivoracious

"The information is presented clearly and simply and would be great for a novice but still in depth enough for a semi-seasoned succulent-er." —Fine Gardening Online

"Planting succulents in containers opens the way for a hobby within a hobby." —Associated Press

"Considering  repetition, color and texture, scale and proportion, in combination with the choice of containers, will enhance the sculptural beauty of the plants. Baldwin showcases classic containers, unusual art pots, and surprising containers—a child's  toy  fire  engine,  a rusty flour sifter, or a muffin tin…a useful and encouraging guide for growing succulents." —Pacific Horticulture

"Baldwin opened the door of possibilities using succulents as fabulous design elements not only in colorful well scaled plant groupings in the landscape but as attractive showcase container plant gardens." —Press-Telegram