After the Blessing: Mexican American Veterans of WWII Tell Their Own Stories (Paperback)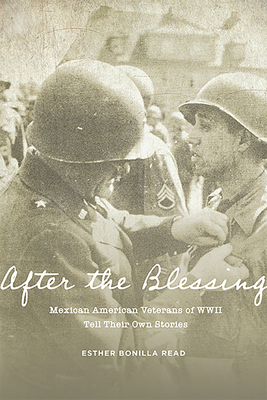 $26.95

Usually Ships in 1-5 Days
Description
---
"This lieutenant gets up there and says, 'American soldiers don't huddle and put their hands in their pockets on a cold day. They stand at attention.' . . . [there was a] buzz . . . in Spanish . . . 'Hey, they called us Americans!'"—Armando Flores, Army Air Corps.
Many Catholic families blessed their children before they left home. After the Blessing tells the stories of many young Mexican Americans who left home to fight for their country. During the Mexican Revolution (1910–1920), many families fled Mexico to prevent their underage sons from being forced to fight. Ironically, the offspring of these immigrants often ended up across the ocean in a much larger war. Despite the bias and mistreatment most Mexican Americans faced in the US, some 500,000 fought bravely for their country during World War II. Their stories range from hair-raising accounts of the Battle of the Bulge to gut-wrenching testimony about cannibalism in the Pacific. In After the Blessing Mexican Americans reveal their experiences in combat during WWII—stories that have rarely been told.
About the Author
---
ESTHER BONILLA READ has published columns and stories in anthologies and in a number of newspapers, including the San Antonio Express and the Dallas Morning News. She lives in Corpus Christi, Texas.