Metamorphoses: City Lights Spotlight No. 22 (Paperback)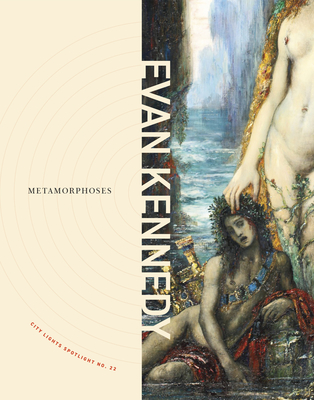 Description
---
One of Publishers Weekly's Most Anticipated Poetry Books for Spring 2023

Metamorphoses springs from Ovid's epic poem to explore the slipperiness of identity, its propensity for change and transience. In poems that shift registers from travelogue to elegy, from nature documentary to a simple record of the realities of daily life, Evan Kennedy focuses on transformation, personal and collective, in an empire in decline, in a world transfigured by ecological upheaval.

With a range of reference from Roman household Gods to San Francisco poetic titans to musical celebrities like Madonna and Bob Dylan, Metamorphoses confronts change as an inevitable molecular process.
About the Author
---
Evan Kennedy is a poet and bicyclist. He is the author of I Am, Am I, to Trust the Joy That Joy Is No More or Less There Now Than Before (Roof Books), Jerusalem Notebook (O'clock Press), The Sissies (Futurepoem), Terra Firmament (Krupskaya), Shoo-Ins to Ruin (Gold Wake Press), and Us Them Poems (Book*hug). He runs the occasional press, Dirty Swan Projects, and was born in Beacon, New York, in 1983. He lives in San Francisco, California.