A Short History of Presidential Election Crises: (And How to Prevent the Next One) (City Lights Open Media) (Paperback)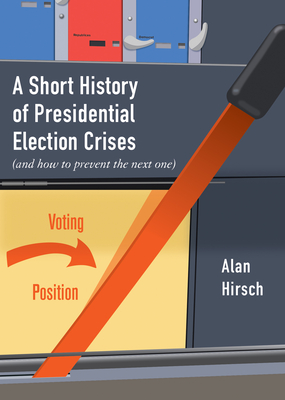 $16.95

Usually Ships in 1-5 Days
Description
---
An urgent primer on what can be done to combat emerging threats to the core of U.S. Democracy--presidential elections.
In 2000, we learned that an exceptionally close presidential election can produce chaos, because we have no reliable Constitutional mechanism for resolving disputes. Joe Biden just won a presidential election that was extremely close in a number of states. Trump--and his many supporters--refuse to accept the legitimacy of those vote results, leading to an insurrection at the Capitol Building. Where do we go from here?
In A Short History, Constitutional scholar Alan Hirsch presents a concise history of presidential elections that resulted in crises and advocates clear, common-sense solutions, including abolishing the Electoral College and the creation of a permanent, non-partisan Presidential Election Review Board to prevent or remedy future crises.
"Hirsch does a very good job of offering historical context to illuminate the present--and the terrifying future. His imaginative proposals are probably too sensible to be implemented in an age of parochial partisanship."--David Shipler, former reporter for the New York Times and Pulitzer Prize winner
"Democracy is broken, but as Alan Hirsch explains, it really doesn't have to be. This is the real story of how our voting system became so vulnerable to attacks from within and without, told with precision, verve, and even hope. This is the way out."--Douglas Rushkoff, author of Team Human
"This is a must-read for anyone who cares about safeguarding presidential elections―which should be everyone."--Evan Caminker, Professor and former Dean, University of Michigan Law School
"The noted law historian, author of Impeaching the President, examines the handful of seriously problematic presidential elections in American history and what the Constitution elucidates about the process of undoing such an event--namely, nothing. . . . A highly relevant study featuring much food for thought and prospects for change."--Kirkus Reviews, Starred Review
" A] seminal work of meticulous and informative scholarship that should be considered as an essential and unreservedly recommended addition to community, college, and university library Contemporary Political Science collections. It should be noted for the personal reading lists of students, academia, political activists, and non-specialist general readers with an interest in the subject."--Midwest Library Review
About the Author
---
Alan Hirsch, Instructor in the Humanities and Chair of the Justice and Law Studies program at Williams College, is the author of a number of books including Impeaching the President: Past, Present, and Future (City Lights) and For the People: What the Constitution Really Says About Your Rights (Free Press) (coauthored with Akhil Amar). He received a J.D. from Yale Law School and B.A. from Amherst College. His work has appeared in the Washington Post, Los Angeles Times, Washington Times, Newsday, and the Village Voice. Hirsch also serves as a trial consultant and expert witness on interrogations and criminal confessions, testifying around the nation.