Mule Kick Blues: And Last Poems (Paperback)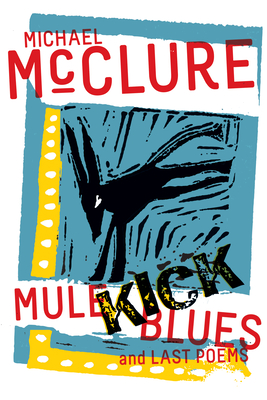 Description
---
The final book of poems from a Beat Generation legend, Mule Kick Blues finds McClure restlessly innovating until the end.
"Intelligent, affable and flecked with unconventional typography--as in previous books ... Mule Kick Blues is an estimable coda to a storied career."--San Francisco Chronicle
"What a beautiful book. ... I can't think of any contemporary artist who explores the interior, the inside-out of the dharma as magically and freely as McClure except maybe for David Lynch. Were they friends?"--Eileen Myles
"This legendary rockstar eco-poet's gemlike modal structures will keep humming while 'black ants circle a bubble of honey.' A final performance from a master poet."--Anne Waldman
"These pyramids and lozenges of crystal and light point in all directions and pierce you with the sobbing foghorn lobs of the ever-morphing ripples of the San Andreas Fault Ensemble. Long live McClure and the Libratonic Scales of Interspecies Justice "--Filip Marinovich
"His dedication to the pursuit of liberation in craft and subject matter reveals him to be a powerhouse of wisdom, love, joy. In this book, his ferocity and tenderness intertwine. Here are poems of improvisational intensity. And they are great gifts to us."--Uche Nduka
A powerful collection of new work written during the last years of McClure's life, Mule Kick Blues was readied for publication before the poet's death in May 2020. Its opening section gives us a rare view into his thoughts about his own mortality, particularly in the moving sequence "Death Poems." The book takes its title from an innovative series of homages to blues musicians like Leadbelly and Howlin' Wolf, and evoking Kerouac's concept of "blues" poems. Featuring shout-outs to lifelong friends like Philip Whalen, Diane di Prima, and Gary Snyder, the long poem "Fragments of Narcissus," and the eco-logical and zen-infused themes for which he is known, Mule Kick Blues is a definitive statement by one of the most significant American poets of the last sixty years. Introduction by poet Garrett Caples, McClure's editor at City Lights.
About the Author
---
Michael McClure (1932-2020) was an award-winning American poet, playwright, songwriter, and novelist. After moving San Francisco as a young man, he was one of the five poets who participated in the Six Gallery reading that featured the public debut of Allen Ginsberg's landmark poem Howl. A key figure of the Beat Generation, McClure is immortalized as Pat McLear in Jack Kerouac's novels The Dharma Bums and Big Sur. He also participated in the 60s counterculture alongside musicians like Janis Joplin and Jim Morrison. He taught for many years at California College of the Arts and lived with his wife, Amy, in the San Francisco Bay Area.Garrett Caples is a poet who lives in San Francisco and is an editor at City Lights, where he curates the Spotlight Poetry Series. He is the author of several books of poetry, most recently Power Ballads (2016), and a book of essays, Retrievals (2014). His editorial projects include Poems from the Greenberg Manuscripts (2019), Arcana: A Stephen Jonas Reader (2019), Preserving Fire: Selected Prose by Philip Lamantia (2018), Incidents of Travel in Poetry: New & Selected Poems by Frank Lima (2016), and The Collected Poems of Philip Lamantia (2013).