Struggle for the Land: Native North American Resistance to Genocide, Ecocide, and Colonization (Paperback)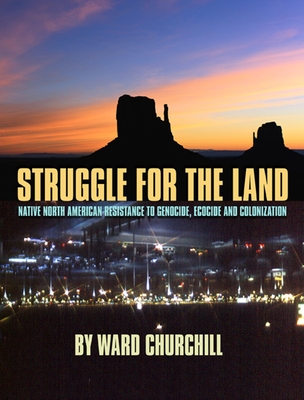 $19.95

Usually Ships in 1-5 Days
Description
---
From the Sonora to the Arctic, North America's indigenous peoples have been dispossessed of nearly all their original territory, with the residue held undera a colonial trust authority by the U.S. and Canada. Ironically, the presumably useless fragments of geography set aside to keep Native Americans out of sight and mind have turned out to be some of the most resource-rich on the planet. Native Americans should thus be among the most affluent sectors of the population, but instead, they are the absolute poorest. The reason for this paradox is clear: the riches of North America's indigenous nations continue to be channeled into the settler's economy.
By focusing upon certain modes of resource exploitation, Churchill demonstrates clearly that the effects of state/corporate business in the native-populated hinterlands of the continent are as ecocidal as they are genocidal. The ecological havoc being wreaked cannot be contained within reservation areas, and therefore poses a threat to all North Americans, presenting a common ground upon which Indians and non-Indians alike can and must struggle to repeal the status quo.
This seminal book established Churchill as an intellectual force to be reckoned with in indigenous land rights debates. Required reading for anyone interested in Native North America and ecological justice. Revised and expanded edition.
About the Author
---
Ward Churchill has achieved an unparalleled reputation as a scholar-activist and analyst of indigenous issues. He is a Professor of American Indian Studies at the University of Colorado, Boulder, a leading member of AIM and the author of numerous books, including A Little Matter of Genocide, Struggle for the Land and Fantasies of the Master Race.