The Collected Poems of Bertolt Brecht (Hardcover)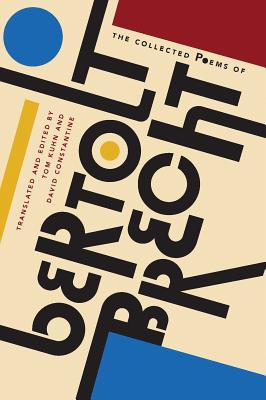 $49.95

Usually Ships in 1-5 Days
Description
---
Times Literary Supplement • Books of the Year ("The most generous available English collection of Brecht's poetry.")
A landmark literary event, The Collected Poems of Bertolt Brecht is the most extensive English translation of Brecht's poetry to date.
Widely celebrated as the greatest German playwright of the twentieth century, Bertolt Brecht was also, as George Steiner observed, "that very rare phenomenon, a great poet, for whom poetry is an almost everyday visitation and drawing of breath." Hugely prolific, Brecht also wrote more than two thousand poems—though fewer than half were published in his lifetime, and early translations were heavily censored. Now, award-winning translators David Constantine and Tom Kuhn have heroically translated more than 1,200 poems in the most comprehensive English collection of Brecht's poetry to date. Written between 1913 and 1956, these poems celebrate Brecht's unquenchable "love of life, the desire for better and more of it," and reflect the technical virtuosity of an artist driven by bitter and violent politics, as well as by the untrammeled forces of love and erotic desire. A monumental achievement and a reclamation,
The Collected Poems of Bertolt Brecht
is a must-have for any lover of twentieth-century poetry.
About the Author
---
Bertolt Brecht (1898–1956) was a German poet, playwright, and theater director. In those capacities, and also as a polemical essayist, he contributed powerfully to the chief literary and political debates of his day, and lastingly influenced theatrical theory and practice. He left more than 2,000 poems, assuring him a place among the very best lyric poets of Germany.

David Constantine is a freelance writer and translator. His most recent volume of poetry is Elder (2014); his fourth collection of short stories, Tea at the Midland, won the Frank O' Connor International Short Story Award in 2013.

Tom Kuhn teaches at the University of Oxford, where he is a Fellow of St Hugh's College. He works on twentieth-century drama and German exile literature and has been, since 1996, editor of the main English-language Brecht edition.
Praise For…
---
With The Collected Poems of Bertolt Brecht, the translators Tom Kuhn and David Constantine invite English-speaking readers to discover Brecht the poet.... [These poems] give a sense of the fertility of his pristine, unsentimental language and the breadth of subject and form.... 'Brecht is a great poet,' the translators write in their introduction, 'one of the three or four best in the whole of German literature.' This volume holds enough evidence to support that claim, from the Rabelaisian brilliance of the 'Domestic Breviary' (1927) and the bitter clarity of the poems written in exile from the Third Reich to the meditative grace of late poems that is found in between — or sometimes within — odes to machines and Marxist dialectic.

— Corinna da Fonseca-Wollheim, New York Times Book Review

This immense books of poems couldn't be less obscure or difficult—not that they lack subtleties, especially of voice.... The poetry of protest—against war, fascism, prostitution, poverty cruelty, and callousness—has no finer practitioner, whose work these formally faithful translations make almost as powerful in English as in German.
— Ray Olson, Booklist (starred review)

This immense collection of Brecht's poems amounts to a running record of his many lives as a theorist, dramatist, polemicist, and now poet… The assembled throng gives the reader immediate access to the interior of Brecht's restless, oceanic mind.
— Billy Collins, former Poet Laureate of the United States

Richly political, finally honed like a monster being restrained but gentle enough to tell the children a story.
— Eileen Myles, author of I Must Be Living Twice: New and Selected Poems 1975-2014 and Inferno (a poet's novel)

Surely no other writer was ever so patient, funny and astute about human frailty.... These versions hold up very well to close study, especially in matters of rhyming, usually the downfall of translators.... Kuhn and Constantine speak eloquently of the ways in which Brecht's poem 'are never just the servant of his politics…they exceed his engagement in the particular and necessary cause.
— Michael Wood, London Review of Books

Universality makes [Brecht's] poetry as essential a voice of his time as Yeats, Maya Angelou, or Muriel Rukeyser.... translators Kuhn and Constantine offer English speakers an indispensable resource into the intellect and soul of one of the 20th century's greatest writers.... The succinct and superb introductions by the editors take us on the journey of Brecht's life.... This collection is a necessary starting place for what will hopefully be a long history of translations of Brecht's poems into English.... The arrival of Brecht's poems at this moment in American history could hardly be better timed — although by better I most certainly mean worse, since it offers no relief to say that the most political of Brecht's poems could have been written this morning.
— Yuval Sharon, Los Angeles Review of Books

A remarkable feat in getting the erotic and political fervor and humor of Bertolt Brecht into a strong answering voice.
— Harold Bloom, author of The Western Canon and The Anxiety of Influence

A breath of fresh air… Within the bold statements, the direct speech and the willful naivety there's a lyrical dynamism and verbal agility that allows its author to dance and skip his way through the potential pitfalls of political rhetoric.
— Simon Armitage, author of The Story of the Iliad and Walking Home: A Poet's Journey

His poetry served as the lyric laboratory of his personal, political, and philosophical ideas. Thanks to this astonishing compendium, English-speakers finally have access to this essential aspect of Brecht's writing and thinking.
— Yuval Sharon, director of Doctor Atomic and MacArthur "Genius Grant" recipient

Brecht was a great a poet as he was a playwright: pungent and moving, both sharply aphoristic and generously expansive, morally committed, with a deep, complicating sense of his own mixed motives, and with unexpected moments of emotional intensity.
— Edward Mendelson, author of Moral Agents: Eight Twentieth-Century American Writers

We need Brecht more than ever, no less for his capacity to so movingly "take pleasure also / in the song of every blackbird after me" than for the power of his political poems and songs to take on demagogues and dickheads.
— Paul Muldoon, author of One Thousand Things Worth Knowing and recipient of the Pulitzer Prize for Poetry