Who Killed Hunter S. Thompson?: An Inquiry Into the Life & Death of the Master of Gonzo (Hardcover)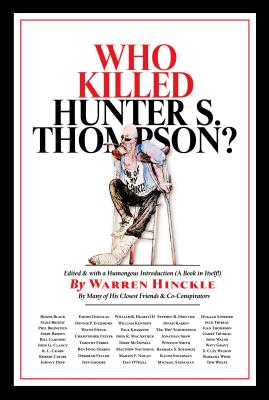 for information about purchasing this book, please contact orders@bookpassage.com
Description
---
An inquiry into the life and death of the master of 'gonzo' - Hunter Thompson - with candid memories and appreciations by many of his closest friends and co-conspirators.

Thompson's compatriots, observe and comment on the
journalistic legend's life and death.

Contains: transcripts of his rants and idiosyncratic
phone messages, The Gonzo Master's Midnight Faxes, The Kentucky Derby is Decadent and Depraved, and a humungous introduction (a book in itself ) by Warren Hinckle III.

BOOK ONE
The Crazy Never Die
including The Night Manager
Warren Hinckle

BOOK TWO
The Kentucky Derby Is
Decadent and Depraved
Hunter S. Thompson & Ralph Steadman

BOOK THREE
Adventures with Hunter
including Shotgun Art & Shotgun Golf
John G. Clancy A Master Of Tools
Bill Cardoso The Origin Of Gonzo
Dennis P. Eichhorn What Is Gonzo?
Roger Black Waiting For Copy
Jerry Brown Res Ipsa Loquitur
Ben Fong-Torres Janis Joplin Knew What She Was Doing, Too
Paul Krassner Blowing Deadlines With Hunter
Timothy Ferris Fear And Loathing
William Randolph Hearst III How The Doctor Rated The Game
Terry McDonell The Smoking Lamp Is Off
Martin F. Nolan Hunter By Moonlight
William Kennedy A Box Of Books
Chris Felver Shooting Hunter In f8
Phil Bronstein A Night At Hunter's
Barbara Wohl-Littinger I Told You I Was Sick
John R. MacArthur A Night On The Town
Jack Thibeau One Of Those Learning Experiences
Michael Stepanian Life Was Perfect, Life Was Real
Eugene "Dr. Hip" Schoenfeld, M.D. Medicating Hunter
Matthew Naythons 16 Alexander Avenue
Wayne Ewing Never Call 911
Deborah Fuller Owl Farm Album
John Walsh Hunter As Elvis
Jeff Goodby Hunter Makes A Commercial, Sort Of
Ralph Steadman I Knew He Meant It
Jonah Raskin The View From The Left
Tom Wolfe As Gonzo In Life As In His Work
Garry Trudeau Some Nasty Karmic Shift
Jonathan Shaw & Johnny Depp The Gift of the Severed Finger
Wavy Gravy A Haiku For The Good Doctor
Stephen R. Proctor Heir Aberrant

BOOK FOUR
They Came For Blood...
We Gave Them Ink
R. L. "Bob" Crabb
including The Topless Caravan to Woody Creek

BOOK FIVE
Midnight Faxes
Hunter S. Thompson To Jeff Armstrong, Road Manager
including Other Faxes from HST

BOOK SIX
Requiem
Susie Bright
Juan Thompson
Wayne Ewing.