I Want a Better Catastrophe: Navigating the Climate Crisis with Grief, Hope, and Gallows Humor (Paperback)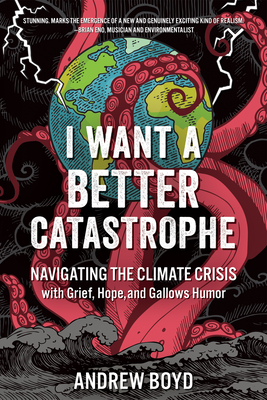 $29.99

Usually Ships in 1-5 Days
Description
---
An existential manual for tragic optimists, can-do pessimists, and compassionate doomers
WITH GLOBAL WARMING projected to rocket past the 1.5 C limit, lifelong activist Andrew Boyd is thrown into a crisis of hope, and off on a quest to learn how to live with the "impossible news" of our climate doom.
He searches out eight leading climate thinkers -- from collapse-psychologist Jamey Hecht to grassroots strategist adrienne maree brown, eco-philosopher Joanna Macy, and Indigenous botanist Robin Wall Kimmerer -- asking them: "Is it really the end of the world? and if so, now what?"
With gallows humor and a broken heart, Boyd steers readers through their climate angst as he walks his own. From storm-battered coastlines to pipeline blockades and "hopelessness workshops," he maps out our existential options, and tackles some familiar dilemmas: "Should I bring kids into such a world?" "Can I lose hope when others can't afford to?" and "Why the fuck am I recycling?"
He finds answers that will surprise, inspire, and maybe even make you laugh in this insightful and irreverent guide for achieving a "better catastrophe."
AWARDS
BRONZE 2023 Living Now Book Awards: Social Activism / Charity
About the Author
---
Andrew Boyd is a writer, humorist, activist, and CEO (Chief Existential Officer) of the Climate Clock, a global campaign that blends art, science, and grassroots organizing to get the world to #ActInTime. He also co-created the grief-storytelling ritual the Climate Ribbon and led the 2000s-era satirical campaign Billionaires for Bush. Andrew's previous books include Beautiful Trouble: A Toolbox for Revolution, Daily Afflictions: The Agony of Being Connected to Everything in the Universe, and Life's Little Deconstruction Book: Self-Help for the Post-Hip. His lifelong ambition, cribbed from Milan Kundera, is "to unite the utmost seriousness of question with the utmost lightness of form." Andrew lives in New York City.