Agents of Influence: How the KGB Subverted Western Democracies (Hardcover)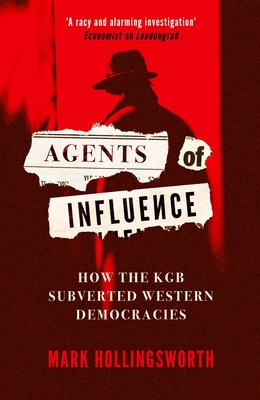 Description
---
There's no such thing as a former KGB man.

Agents of Influence reveals the secret history of an intelligence agency gone out of control, accountable to no one but itself and intent on subverting Western politics on a near-inconceivable scale. In 1985, 1,300 KGB officers were stationed in the USA. The FBI only had 350 counter-intelligence officers. Since the early days of the Cold War, the KGB seduced parliamentarians and diplomats, infiltrated the highest echelons of the Civil Service, and planted fake news in papers across the world.

More disturbingly, it never stopped. Putin is a KGB man through and through. Journalist Mark Hollingworth reveals how disinformation, kompromat and secret surveillance continue to play key roles in Russia's war with Ukraine. It seems frighteningly easy to destabilise Western democracy.
About the Author
---
Mark Hollingsworth is a journalist, historian and author of ten books, notably Londongrad, Saudi Babylon, an acclaimed study of MI5, and biographies of Mark Thatcher and Tim Bell. He worked for Granada TV's award-winning World In Action documentary series for five years and also writes regularly for The Times, Mail on Sunday, Spectator, Guardian and the Daily Telegraph.
Praise For…
---
'A racy and readable account of a range of Soviet intelligence operations carried out during the Cold War.'
— Telegraph

'An enjoyable read'
— The Times

'Entertaining.'
— Tablet

'A gripping story filled with remarkable revelations.'
— Tom Bower, author of Revenge

'From honey traps to hit jobs, the plot twists like The Third Man in post-war Vienna. Mark Hollingsworth ably traces the history of active measures from Lenin's Chekists to the present day. Deeply researched, fluently written and insightful, this book is essential reading for anyone trying to understand the threat Putin's Russia poses to us here in Britain.'
— Edward Lucas, author of Deception

'A valuable account of an important and highly topical subject – Russian intelligence operations against the West… A must-read for anyone wishing to understand the origins of the malign mindset and obsession of Vladmir Putin and his acolytes.'
— Christopher Steele, former MI6 officer in Russia, 1990-93

'Gripping and insightful… We meet an intriguing list of characters through which the Soviets aimed to gain an advantage over the West. Motivated by ideology, or in other cases by money, they are an exotic list whose stories are explored in detail and give the book a feeling of a real-life spy novel… A good read with fascinating insights, Hollingsworth's book is to be recommended.'
— Kevan Jones MP, PoliticsHome