Treasures of the Qur'an: Surah Al-Fatihah to Surah Al-Mai'dah (Paperback)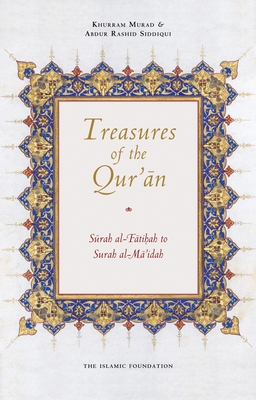 $14.95

Usually Ships in 1-5 Days
Description
---
A clear and simple commentary upon five pivotal parts of the Qur'an. With explanatory notes and key words described.
The first group of Surahs (al-Fatihah, al-Baqarah, al 'Imran, al-Nisa' and al-Ma'idah) are introduced and examined in this volume, with the author looking at their structure and major themes. The central theme of which is conferring the status of Muslim ummah on the believers, to which a new code of life was given to be followed to be better humans.
About the Authors
Abdur Rashid Siddiqui is the author of many works on the Qur'an, including Qur'anic Keywords: A Reference Guide and 100 Minutes with the Qur'an.
Khurram Murad (1932-1996) was the director general of The Islamic Foundation, United Kingdom, and authored many books, including In the Early Hours.
About the Author
---
Abdur Rashid Siddiqui: Abdur Rashid Siddiqui gained an honours degree in Economics and Politics from the University of Bombay and has a law degree from the same university. He completed his postgraduate study in Librarianship in London and was elected an Associate of the Library Association. He worked as an Information Librarian at the University of Leicester from 1966 until his retirement in 1997. Khurram Murad: Khurram Murad (1932 - 1996) was the director general of The Islamic Foundation, UK, and a renowned teacher who spent forty years in the spiritual teaching and training of thousands of young Muslim people around the globe.