Orphan Master's Son (Hardcover)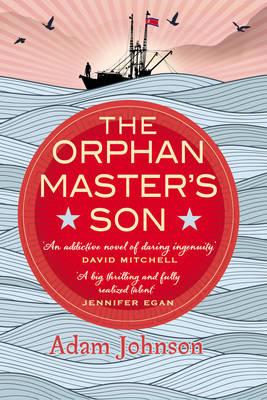 $40.50
Email or call for price
Fall '12 Reading Group List
---
"Sometimes we say that a book tries to be too many things. This thought-provoking novel is many things -- an adventure tale, an examination of identity and the nature of the self, a meta-narrative, a political novel, a love story, a survivor story, and more -- and it succeeds on all counts. Like the works of David Mitchell, The Orphan Master's Son is at once a joy to read, a challenging work, and, ultimately, a terrific and satisfying story."
— Mark LaFramboise, Politics & Prose Books and Coffee Shop, Washington, DC
January 2012 Indie Next List
---
"Sometimes we say that a book tries to be too many things. This thought-provoking novel is many things - an adventure tale, an examination of identity and the nature of the self, a meta-narrative, a political novel, a love story, a survivor story, and more - and it succeeds on all counts. Like the works of David Mitchell, The Orphan Master's Son is at once a joy to read, a challenging work, and ultimately, a terrific and satisfying story."
— Mark LaFramboise, Politics & Prose Books and Coffee Shop, Washington, DC
Description
---
"NEW YORK TIMES "BESTSELLER
"A daring and remarkable novel."--Michiko Kakutani, "The New York Times "
Pak Jun Do is the haunted son of a lost mother--a singer "stolen" to Pyongyang--and an influential father who runs a work camp for orphans. Superiors in the state soon recognize the boy's loyalty and keen instincts. Considering himself "a humble citizen of the greatest nation in the world," Jun Do rises in the ranks. He becomes a professional kidnapper who must navigate the shifting rules, arbitrary violence, and baffling demands of his Korean overlords in order to stay alive. Driven to the absolute limit of what any human being could endure, he boldly takes on the treacherous role of rival to Kim Jong Il in an attempt to save the woman he loves, Sun Moon, a legendary actress "so pure, she didn't know what starving people looked like."
In this epic, critically acclaimed tour de force, Adam Johnson provides a riveting portrait of a world rife with hunger, corruption, and casual cruelty but also camaraderie, stolen moments of beauty, and love.
"Gripping . . . Deftly blending adventure, surreal comedy and "Casablanca"-style romance, the novel takes readers on a jolting ride through an Orwellian landscape of dubious identity and dangerous doublespeak."--"San Jose Mercury News"
" "
"This is a novel worth getting excited about. . . . Adam Johnson has taken the papier-mache creation that is North Korea and turned it into a real and riveting place that readers will find unforgettable."--"The Washington Post"
" "
" A] brilliant and timely novel."--"The Wall Street Journal"
"Remarkable and heartbreaking . . . To the] very short list of exceptional novels that also serve a humanitarian purpose "The Orphan Master's Son" must now be added."--"The New Republic"
" "
"A triumph of imagination . . . Grade: ] A."--"Entertainment Weekly"
" "
"A spellbinding saga of subverted identity and an irrepressible love."--"Vogue"
About the Author
---
Adam Johnson teaches creative writing at Stanford University. His fiction has appeared in "Esquire, The Paris Review, Harper's, Tin House, Granta, " and "Playboy, " as well as "The Best American Short Stories." His other works include" Emporium, " a short-story collection, and the novel" Parasites Like Us." He lives in San Francisco.