On the Royal Road: The Burgher King (The German List) (Hardcover)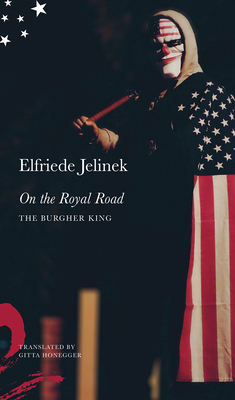 $21.50

Usually Ships in 1-5 Days
Description
---
Nobel Prize winner Elfriede Jelinek is known as a writer who works in response to contemporary crises and cultural phenomena. Perhaps none of her works display that quality as clearly as On the Royal Road. Three weeks after Donald Trump's election, Jelinek mailed her German editor the first draft of this play, which turns out to be a stunningly prescient response to Trump and what he represents. In this drama we discover that a "king," blinded by himself, who has made a fortune with real estate, golf courses and casinos, suddenly rules the United States, and the rest of the people of the world rub their eyes in disbelief until no one sees anything anymore.
 
As topical as the evening news, yet with insight built on a lifetime of closely observing politics and culture, On the Royal Road brings into focus the phenomenon of right-wing populism, which spreads like a virus and has a lasting effect on global politics. Carefully perched somewhere between tragedy and grotesque, high-pitched and squeamish, Jelinek in this work questions her own position and forms of resistance.
 
About the Author
---
Elfriede Jelinek is an Austrian playwright and novelist who was awarded the Nobel Prize in Literature in 2004. Her best-known novels are Lust and The Children of the Dead.

Gitta Honegger has translated a number of Jelinek's novels into English and is the author of the cultural biography Thomas Bernhard: The Making of an Austrian.
Praise For…
---
"In a near-perfect echo of today's world, Nobel Prize-winning Elfriede Jelinek's On the Royal Road is stuffed breathless with metaphors, innuendoes, and anecdotes as it satirises US President Donald Trump. . . .  The play reveals unflinchingly how complicit everyone has been in the entire spectacle of the Trump presidency. And because Jelinek never actually names the country nor the leader, it becomes a raw and scary tale of power left unchecked which can apply anywhere in the world."
— The Daily Star (India)