YSL Lexicon: An ABC of the Fashion, Life, and Inspirations of Yves Saint Laurent (Hardcover)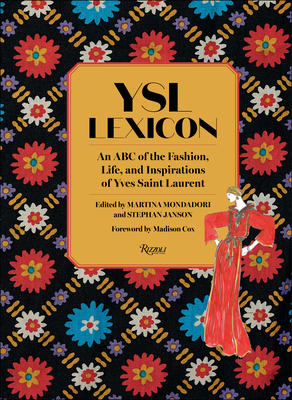 Description
---
The world's leading authorities on fashion and design celebrate the 60th anniversary of YSL's first runway presentation with a lexicon that includes many images from the designer's extraordinary archives.

Yves Saint Laurent (1936–2008) is credited with reviving French haute couture in the 1960s, with making ready-to-wear reputable, and with using non-European cultural references. In addition to the kaleidoscope of images in this book, a coterie of tastemakers have supplied listings that encompass YSL's style inspirations (C is for Costumes, as exem-plified by the Russian theme of the famed autumn-winter 1976–77 collection; T is for Tuxedo, which the designer initially referenced with his 1965 "Le Smoking") and important facets of his life (J is for Jardin Majorelle, the garden of the couturier's para-disiacal retreat in Marrakech; R is for Rive Gauche, the bohemian, chic neighborhood of Paris where the YSL boutique is situated and also the name of the house's famous perfume launched in 1970). This distillation and celebration of the designer's life reveals the inner world of a twentieth-century master.
About the Author
---
Martina Mondadori is the founder of Cabana maga-zine. Stephan Janson is a fashion designer. Madison Cox is the president of the Pierre Bergé–Yves Saint Laurent Foundation. Claude Arnaud is an essayist and biographer. Hamish Bowles is the international editor at large at American Vogue. Amy Fine Collins, a Special Correspondent to Vanity Fair for 25 years, is an Editor at Large at Air Mail and the author, most recently, of The International Best-Dressed List: The Official Story, published by Rizzoli. Natasha Fraser-Cavassoni is an author. Caroline Issa is a magazine publisher. Caroline Loeb is an actress, singer, and director. Marian McEvoy is an artisan and former magazine editor in chief. Umberto Pasti is a writer and horticulturist. Elie Top is a jewelry designer. Diane von Fürstenberg is a fashion designer.
Praise For…
---
"Tracing Yves Saint Laurent's life, loves, and inspirations alphabetically, from "Art" to "Zizi" (Jeanmaire, a longtime muse), this abecedary marks the 60th anniversary of the designer's first runway show. Fashion friends including Diane von Furstenberg and Elie Top contributed chapters, each illustrated with photos and sketches from Saint Laurent's archives." —HARPERSBAZAAR.COM

"A new book of essays and photos traces the fashion, life, and inspirations of Yves Saint Laurent from A to Z. Amy Fine Collins zeroes in on his muses" —AIRMAIL.COM

"YSL LEXICON is a priceless entry into the genre of fashion history. This is a monograph that will be devoured by those who were and remain devotees of YSL as well as for those who wish to know so much more than what has been written about him in the past." —NEW YORK JOURNAL OF BOOKS

"Inside the New Book Covering YSL to the Letter: Released on the 60th anniversary of his first runway show, the book features archival drawings and photos, as well as essays by Hamish Bowles, Diane von Furstenberg, and Amy Fine Collins, among others." —AVENUE MAGAZINE

"Taking on the people, places and concepts that inspired the designer are a host of high-profile contributors including Hamish Bowles on Haute Couture and Marian McEvoy on Jardin Majorelle. Illustrating the book are images from YSL's archive, set against lavish textiles in truly iconic style." —LUXE MAGAZINE

"... this book is seriously inspiring.  I love the places and design styles it features. Fashion and interiors are so closely woven. Pre-order yours. I luckily got an advance copy." —THE ENGLISH ROOM