Pecans: Recipes & History of an American Nut (Hardcover)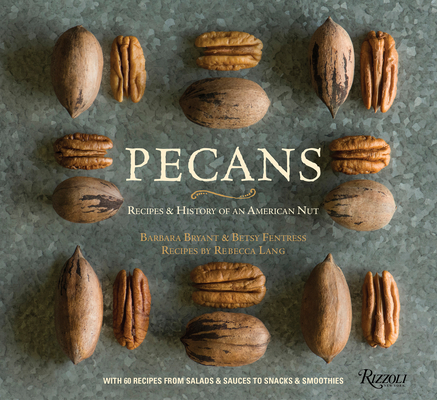 $35.00
Email or call for price
Description
---
The first high-quality illustrated cookbook devoted to pecans in everyday recipes, from salads and snacks to smoothies and sauces.

A delicious superfood, the pecan is quintessentially American but also an international favorite, prized for its buttery flavor and abundant fiber, protein, and vitamins. Pecans gives the underrated nut its due with sixty recipes inspired by global flavors and regional traditions, plus sidebars from chefs and writers such as Vivian Howard, Virginia Willis, Gerard Craft, Nathalie Dupree, Sandra Gutierrez, Lois Ellen Frank, Wendell Brock, and Janet Fletcher.

Dishes run the gamut from breakfasts and baked goods to sauces and entrées, showcasing the pecan's delicious versatility in original recipes, including Pecan, Pineapple, and Lemon Sunrise Smoothies; Fried Pecan-Coated Oysters with Old Bay Remoulade; Penne with Turnips and Turnip Green-Pecan Pesto; Stir-Fried Pecan Kung Pao Chicken; and Mexican Dark Chocolate Pecan Shortbread Tart.
About the Author
---
Barbara Bryant, a philanthropist, and Betsy Fentress, a professional writer, editor, and baker, have previously collaborated on The Bryant Family Vineyard Cookbook and Almonds: Recipes, History, Culture.
Rebecca Lang is an award-winning food writer, cooking instructor, and television personality. Her books include The Southern Vegetable Book and Fried Chicken.